Looking for the perfect nature inspired handmade gift for Mother's Day, this beautiful work of art is truly the perfect gift. It includes a child's handprint, flowers and the word love.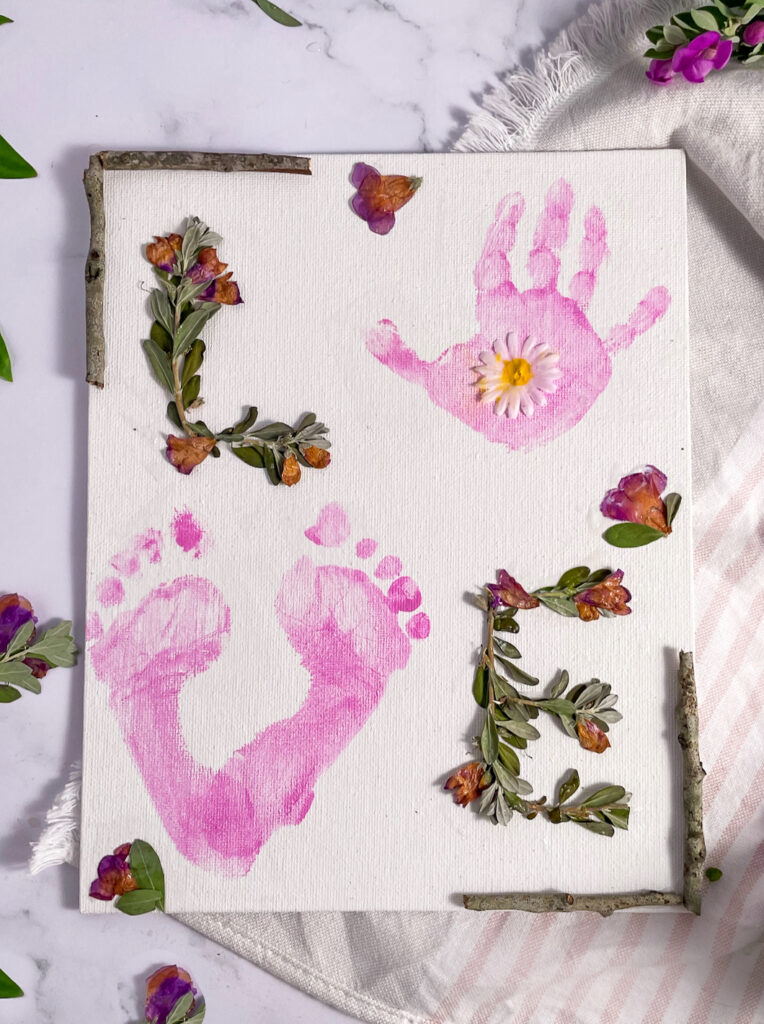 The links contained to products in this post are affiliate links which means I could earn a small commission if you purchase through them. It costs you nothing and supports the work I do here.
My favorite part of this great gift is that it allows several personal touches all in one great keepsake. It is perfect for young kids but can easily be done with older kids as well on a larger canvas or other modifications.
What materials are needed for this Mother's Day Handprint Canvas Craft?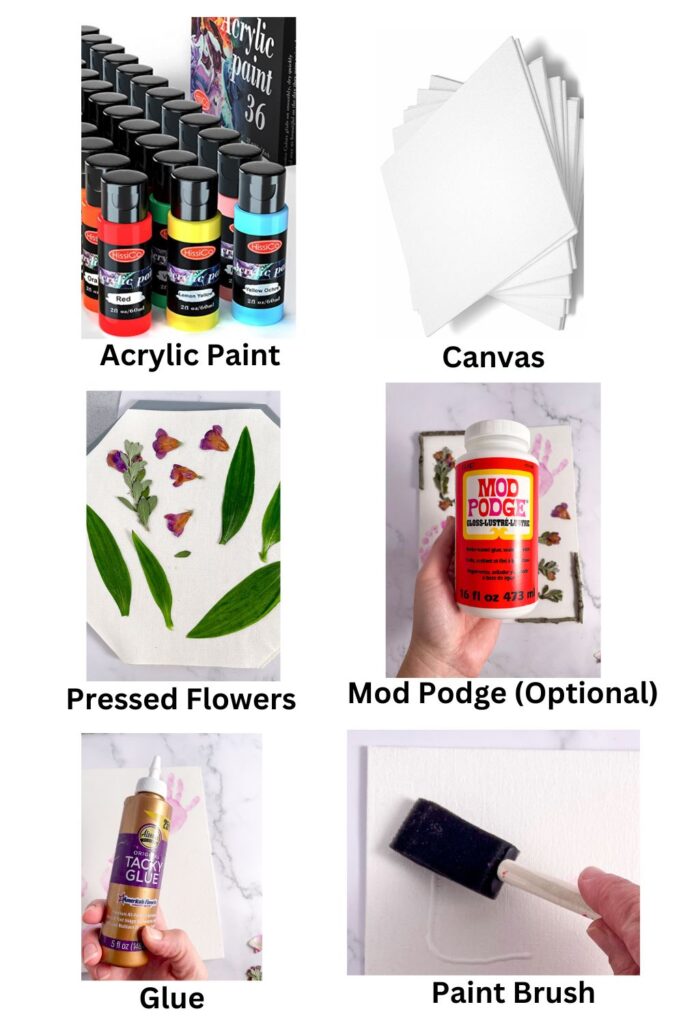 Paintbrush
Pressed flowers, sticks, leaves other greenery
Glue
Mod Podge (optional)
How do you make this Mother's Day Handprint Canvas Craft?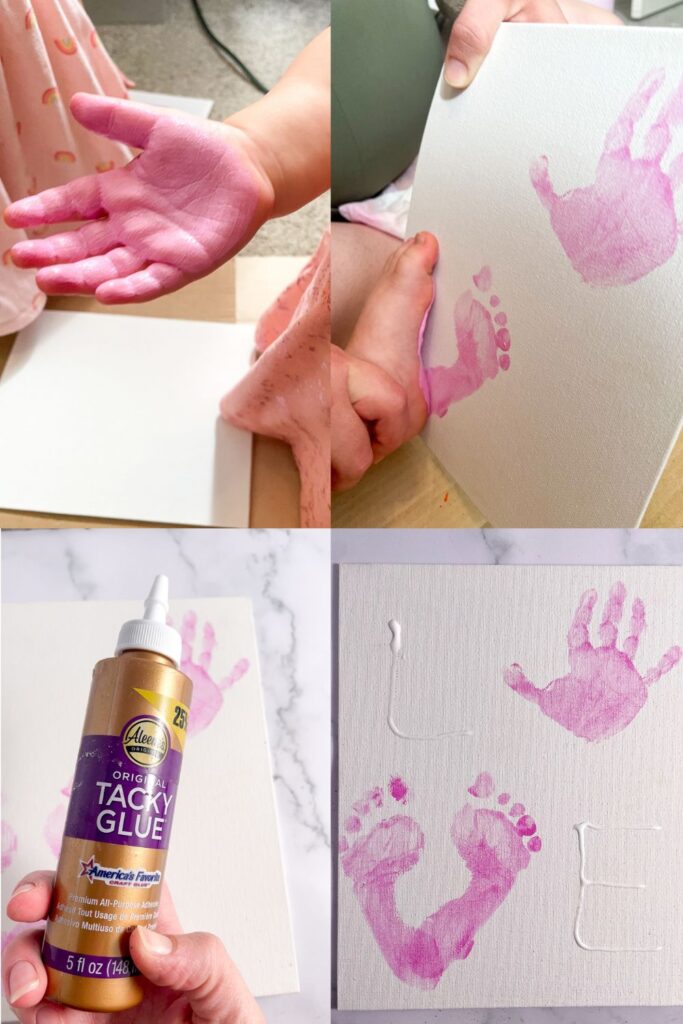 The first step is to gather some flowers, natural materials and any other greenery you want on your artwork.
Press your flowers and greenery. There are several ways to do this but I chose to use a microwave press like this one here that allows them ready to use in just 1 hour! You could use a book which takes 1-2 weeks, or other methods listed here https://www.firstdayofhome.com/how-to-press-flowers/.
Plan out your handprint and footprint spots. I would use a light pencil mark or something to remind you where you want them. Place your L and E letters out as well to help you determine where things fit space wise. Don't glue anything down just yet because you want to be sure it all fits correctly.
Paint your little ones hand and press it onto the canvas. It's important to press the fingers and palm down onto the canvas so you get a clean full print. You'll want to do the same with the feet and enjoy the giggles because painting a foot tickles!
Let your children's hand prints and footprints dry. If your kids are super little I would recommend moving this out of their reach, we had an incident with my messy little monster wanting to put some more little handprints on her art piece.
After it's dry, plan out where you want your greenery now that you have your prints on the canvas.
I laid everything out and moved it around a few times before placing my tacky glue down and adhering everything to the canvas.
Let the glue dry a bit on your pressed flowers, sticks and other greenery.
Use a sponge brush and lightly brush all your greenery, pressed flowers and painted handprints with Modge Podge. This step is optional but a great way to preserve this beautiful gift and keep it lasting as a mothers day keepsake art piece.
​Tips for creating this great mother's day craft.
Consider canvas size. I bought a pack of 8 x10 canvases off Amazon. They were a great price and I like the quality. They are flat unlike a traditional canvas which was not something I was expecting but I do not mind. The artwork shown here was created by my 2 year old daughter who is in the 90th percentile for height and weight just to give you some perspective on size. I also did this with my 5 year old but had to do it straight across instead of the 4 corner design and it did feel a little tight. You could also use construction paper but the sticks would not work very well due to weight.
Think about the flowers you choose to press. I chose some really delicate flowers and they did not press very well. They kind of fell apart when I tried to life them off my little microwave press I used. They also did not work for little hands to pick up and handle. The next flower I chose came off a bush by my girls school that had beautiful leaves and little purple flowers. It was a bit bulky but I love how it looks.
Customize this to your liking. For my 5 year old this did not include footprint art because of space. I used more sticks for the V. You could consider adding a special message to the bottom, border or back of the canvas. You could turn this into a handmade card using a large size construction paper and skipping the sticks again. Of course paint color can be changed out to match Mom's favorite colors. Older children can take this and really make it their own while younger kids can be guided more to make this adorable gift.
​Looking for more Mother's Day Crafts?
Be sure to check out these other simple gift ideas for Mom.
This flower pot uses the same beautiful pressed flowers and is a great idea to gift mom if she is a plant lover.
This leaf imprint dish is a beautiful piece of art work and fun way to incorporate nature into a perfect mother's day gift. You could also modify this and make it a handprint dish.
These love letters are a great way to wish mom a happy mother's day and incorporate a fun nature walk. These are really greta for kids of all ages because they can be done independently.
These clay hearts and pressed flower ornaments are both beautiful ways to use air dry clay or even salt dough to create a treasured keepsake that can be hung as art work or added to the Christmas tree later in the year.
I hope you enjoy this Mothers day craft and have so much fun creating it with your little ones. Tag me on instagram or facebook so I can see your adorable handprint crafts.