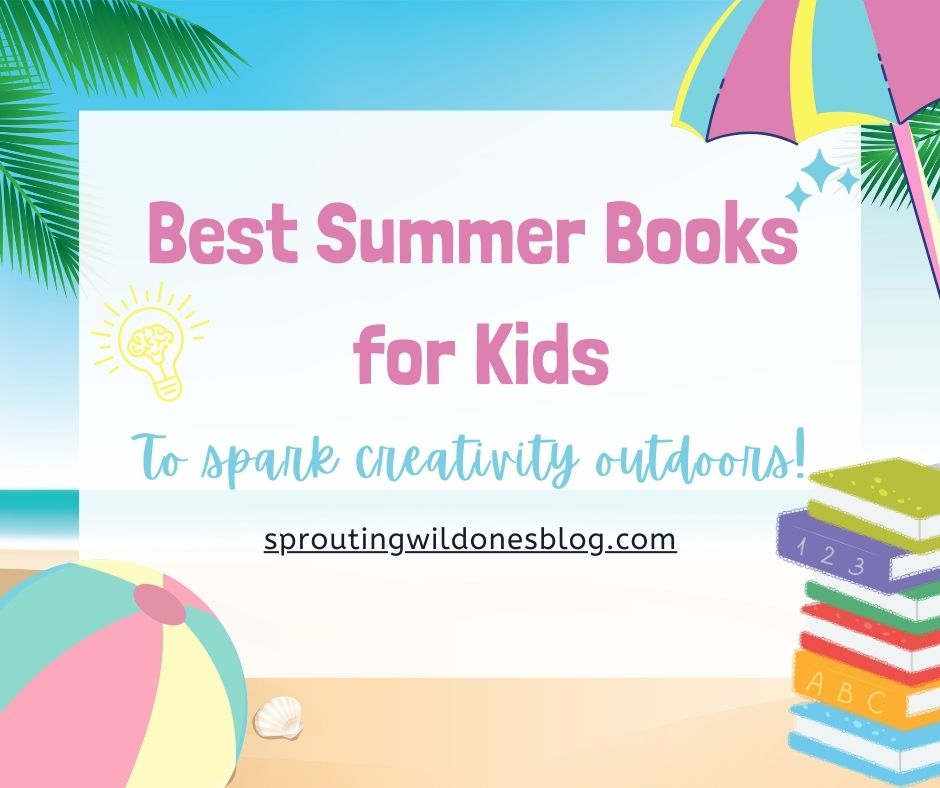 Summer is one of my favorite seasons and as literacy educator I have a book list for basically every season, holiday and event. I wanted to share my top picks to celebrate the summer season. These books are all focused on nature and getting outside to help inspire your little ones to go explore and look at their outdoor world differently. I know for kids a great book list may not be at the top of their list for an awesome summer but I truly believe that kids should be reading everyday for at least a few minutes.
This post contains affiliate links that allow me to earn a small commission from anything you buy using that link. Using these links does not change the price but helps support the work and content I put into this website. Thank you for using these links to shop and supporting Sprouting Wild Ones.
This list is in no particular order but I did add a few things to each book in terms of suggested use/teachings and some notes.
I want to give a bit of a disclaimer that these books are not all directly about summer. Many are about things that typically occur in the summer season and I directly connect to summer but not all specifically cover summer per say.
Books for Summer
1. Finding Wild by Megan Wagner Lloyd
This book is about two young children from city going on an adventure in the wild. They experience tons of different things but my favorite part is how they learn they can experience "the wild" in their own backyard.
Suggested use: I use this to teach kids new vocabulary, metaphors, adjectives and descriptive writing processes.
Notes: The vocabulary in this book is more challenging for young readers. I spent a lot of time explaining words, terms and ideas to my 4 year old but she did enjoy the story.
I love the story line behind this book and the beautiful illustrations that are truly the focus of the story. It's about a boy finding a camera at the beach and the camera has been passed down through various hands taking creative pictures with it and sharing it with others. This is a book without words which initially sounds kinda odd but the creativity it fosters is so incredible. This really empowers kids to tell the story as they see it and feel confident in their story telling ability. The pictures the camera takes appear to be taken by animals in the ocean versus the people but it could be up for debate.
Suggested use: I would use this to teach kids about retelling, main idea, inferring, predictions and creative writing process.
Notes: There are NO words in this book. This always surprises some people but I love that you can just describe what you're seeing.
This is another wordless book about a father and son going on a hike to plant a tree. The pictures for this book are a bit more simple and to the point so it's great for early readers or younger kids. This again really fosters creativity and story telling for kids because they don't have the restraint of possibly telling it wrong. I also like that this book is really relatable for young kids because it starts with them at their house getting ready to go on a hike.
Suggested use: I use this to teach retelling, main idea, sequencing, and again the creative writing process.
Notes: there are no words in this book and since the pictures are a bit more simple I would recommend it for younger children versus older.
4. Mama is it summer yet? by Nikki McClure
This book is perfect for the transition to summer days. It's about a little boy excited for summer asking when it'll be here. The story goes through identifying the signs of spring and then the signs of summer beginning. It is so much fun to pair this story with a nature walk to see if we spot any of the same signs in the story. I actually don't love the illustrations in the story so one of the things I did with my girls is we re-draw some of the illustrations our selves when we're retelling the story.
Suggested use: I use this book to teach seasons, sequencing, symbolism, adjectives and descriptive writing
5. Ojiichan's Gift by Chieri Uegaki
This is one of my favorite books on this list of summer books. It is a great read-aloud about a grandfather who creates a Japanese garden with stones, rocks, and sand instead of flowers, food and grass. He teaches her all about how to care for the garden and keep it beautiful. When the little girl realizes her grandfather can no longer care for the garden she creates a miniature version for him to care for. This book is great to teach about alternative gardens, cultures and relationships. This is truly a beautiful story that is great for summer and year round.
Suggested use: I use this to teach inferring, character traits (hardworking, respect, compassionate, creative) cultural awareness, and summarizing.
Notes: This is a bit of a longer story with a more advanced storyline. It's great for all ages but may need to be split into two different sitting for younger kids. I also pair this with us going on a nature walk to create our own rock and sand gardens.
6. Over and Under the Pond by Kate Messner
This is another one of my favorite books on this list. There is so much you can teach with it and it really gets kids imaginations going thanks to the great illustrations and language. It describes animals over and under the pond, including what they do and eat during the day. This is often listed at my local library as a great picture book to read during their summer reading programs.
Suggested use: There is seriously so much you can teach with this story. There is lots of figurative language, you can infer, predict, animal habitats and food chains, seasons, summarizing, adjectives and descriptive writing process.
This isn't a book I always read but I think its important to have books like this in your library to teach kids about different situations that can occur in different seasons. This book is about a summer filled with many dry hot days that lead to a forest fire starting. It then goes through this process of things eventually growing again and the forest becoming renewed. It can help children understand something like a fire that is often a hard time people, animals and nature. I won't say this is one of those fun books but it is very educational and keeps children engaged because fire is of course interesting.
Suggested use: This story is great to teach retelling, inferring, predicting, descriptive writing and plant life cycles.
8. Waiting for High Tide by Nikki McClure
This is the perfect book to read before a trip to the beach. It's about a boy waiting to high tide to come in. It goes through his family building a raft, things he finds on the beach, things animals are doing during the different tides as well. This book is very educational and great to teach about the tides, animals and creativity.
Suggested use: This one has a lot but I would focus on retelling, summarizing, vocabulary, descriptive language and creative writing.
Notes: I will say it is fairly long and my young kids had to listen to the story in 3 separate sittings to stay engaged on what was happening. We did have lots of conversations in-between because it is a fun story with lots of great information. I will say as a teacher I would not read this to students below probably about 2nd grade due to length and complexity.
9. Wild Berries by Julie Flett
This book could help spark the foraging spirit in your little one. It's about picking wild berries and making a pie. This book was written by an Indigenous author and she includes her native language for various words in the story. This is a very simple book that young readers will be able to easily relate to thanks to the clear pictures and short sentences.
Suggested use: The main thing I use this for is main idea and retelling.
Notes: The pictures are and story are so simple that I have a hard time increasing the rigor for older students.
10. Up in the Garden Down in the Dirt by Kate Messner
This is by the same author of over the pond above the pond. She did a great job with this one as well and its worthy of a spot in your home library. I love that I can teach so many concepts about healthy plants, soil and gardening. It's also easy to read this and go right outside in your backyard to practice some of what you've read and see it in action. Even if you don't have a garden you can easily see some of these things in action with just some potted plants by your front door.
Suggested use: As with the other story by this author you can teach so many concepts from this book. Figurative language, inferencing, predictions, habitats, life cycles and food chains, seasons, summarizing, adjectives and descriptive writing process.
11. My friend earth by Patricia Maclachlan
This is one of my favorite picture books, because the illustrations are so beautiful and give you so much to take in each time your read it. This story describes the earth as a person and the various things "she" does in each season. It is not just about summer but I like to read throughout the year and coming up to summer break as a review for some of the things the season holds.
Suggested use: I use this to teach main idea, summarizing, figurative language, adjectives and creative writing processes.
Notes: This cute book is a lot of fun for all ages and can easily be adapted to entertain, challenge and engage regardless of the level.
This book is about a young girl who somehow ended up in the forest as a baby and the animals took her in and taught her how to live there. She was taken away to the live with people and was so unhappy because she was meant to be in the wild where she was raised. This is silly story that will get your little ones laughing about and imitating being wild themselves. It is not necessarily about summer but I always discuss the fact it probably takes place in summer because of the little bear cubs we see, flowers, green lush landscaping and so on.
Suggested uses: I love to use this to have kids create their own story of what it would be like to be raised in the wild. They are usually able to come up with tons of ideas and paired with nature walk it gets their minds going as to where they would live/play ect. I also use this to teach main idea and retelling.
Notes: I do think this is geared towards younger children but with older students you can get them writing their own version of this discussing figurative language and theme.
13. Out of the Woods: A True Story of an Unforgettable Event by Rebecca Bond
This book is set in the early 1900's and about a boy who lived at a hotel by a forest. The main event is a forest fire, during the summer season, where the animals and people come together in a safe place for a while to wait the fire out. The boy lives in the same town, grows but never forgets that one night that the fire happened. It is a truly interesting read that opens kids eyes to a different time period and again things that can occur in summer.
Suggested use: This is a more challenging book so you can teach things like summarizing, analytic skills, figurative language, character traits, inferring.
Notes: While I think you can read this with any age I would lean towards older because of the story line, setting and length.
14. Wonder Walkers by Micha Archer
This is such a good book for inspiring creativity and imagination related to nature for children. It is about two children going on a wonder walk. They wonder about all of the nature things they see and connect them to everyday things. One example is I wonder if the trees are the sky's legs. It is fun to read and super silly for kids to hear all these children's wonderings.
Suggested use: I love using this book mostly as just an enjoyable read aloud but if I teach anything around it the focus would be similes and creative writing.
15. Slow Down and Be Here Now by Laura Brand
This book isn't really one that I consider a read aloud and more like a reference book for kids and various things in nature. Most all of the things are what you would see in summer like grasshoppers, fireflies, snails and ect. This non-fiction books has hand drawn illustrations which is a fun twist to traditional non-fiction stories. I like this one because it has lots of facts but also pairs well with a nature walk. We have a great time searching for some of the things in the story to make connections about.
Suggested use: This is a non-fiction story so it can be used to teach the structure of non-fiction books, fact and opinion, sentence structure and topic.
16. The Hidden Rainbow by Christie Matheson
This cute story starts with winter ending and the bees emerging from their home to start to visit all the flowers blooming. It goes through all the colors of the rainbow, each represented by a flower. It ends with the plants producing a rainbow of wonderful things and foods to be enjoyed and some facts about bees.
Suggested use: This is a great one to teach main idea because it's a bit provides a bit more challenge to put the main idea together. This also has fun rainbow centered activity suggestions in the book too.
17. And Then Comes Summer by Tom Brenner
This book is a perfect story about the progression of summer. It starts with school ending, then play beginning, then the heat of summer coming and all the activities that go along with it like bike rides, ice cream. sprinkler fun and so much more. It is really great to read as summer is beginning to get your kids excited about all the fun things they can do and eat (ice cream cone yum).
Suggested use: Inferring is a big one you can easily teach with this book. Context clues is another one that I like to use this for and retelling.
This is a really simple book with very little text for kids to enjoy. The pictures are also fairly simplistic but what I enjoy about this story is the fact kids can really build critical thinking skills putting together the ideas the story is implying. It doesn't spell everything out so there is a lot of opportunity for conversations around what do you think that means, what's happening, what could he be doing ect.
Suggested use: I use this to teach rhyming, figurative language, inferring and predicting.
19. The Camping Trip by Jennifer K. Mann
This book gives off comic book vibes with the illustrations and word bubbles making it a bit unique and fun to read. It takes you through the whole camping process with a little girl who is going camping for the first time. The story goes over everything from packing to traveling and then setting up and having fun. It includes, lists, maps and relatable illustrations that I really enjoy.
Suggested use: This is one that you can teach some of the basics like main idea, retelling and predictions.
I hope you found something on that list that resonates with you and you want to grab to enjoy with your own kids. If not I included a few more stories down here that are really summer focused and my kids enjoy. Many of them are part of some popular series so I chose not go into detail about the stories as they follow the same pattern. Others are great stories but not really nature based, which was more of the list I was focusing on here so again I didn't describe them in detail.
Hot Summer Day. by Nina Crews
Olaf's Perfect Summer Day by Disney Book Group
Down to the Sea with Mr. Magee by Chris Van Dusen
Sunny Day by Anna Milbourne
Llama Llama Sand by Anna Dewdney
Biscuit's First Beach Day by Alyssa Satin Capucilli
Jabari Jumps by Gaia Cornwall
Curious George, Curious About Summer
Summer Vacation, Here I Come! D.J. Steinberg
A lot of these books can be found on YouTube to get a feel if you'll like them before buying them. You can also find many at your local library. My library allows me to reserve books from neighboring libraries and they'll deliver them to my home library once a week which is nice!
I want to note that I personally don't believe in the idea books are only for a certain age. I think they can be more appropriate for one age or the other but a simple text can be great for young readers and older readers too. The key to making a book work for multiple ages is to change the focus and questions. I put suggested age range incase you are not sure how you would change the focus/questioning to gear it more towards one age or the other. I want to reiterate that I think picture books can be for all ages and have worked in education for over a decade. I have read the same picture books to prekindergarten students and to 5th grade students with just different questions and focus with tons of success.
Let me know what your favorite books are for the summer months!
Looking for a fun summer craft? My favorite is this super easy DIY suncatcher, check it out!
Looking for more summer fun ideas? Check out all my craft posts here!