These Air Fryer Donut Holes are beyond easy to make and surprisingly delicious donuts. They come together in under 10 minutes making them perfect for a quick fun breakfast.
This easy air fryer donuts recipe is for sure going into my regular use air fryer recipes because my whole family loved it and it was so simple. These homemade donuts seriously only take 10 minutes to make and leave you with just one bowl to clean afterwards! The best part is they have less sugar and fat than regular donut holes because there is no deep frying, no vegetable oil or hot oil, and no deep fryer needed! The pink icing is a perfect addition to these simple donut holes and an easy way to customize them to your liking.
This post may contain affiliate links to products I use. This means I earn a small commission if you click on those links and buy something at no cost to you. This helps support the work I do here.
Why you'll love these Air Fryer Donut Holes
Easy to make– This simple recipe is easy to make and uses simple ingredients. The icing made in one small bowl and the donuts themselves are just pre-made biscuit dough cut into pieces and rolled. They cook into perfect little doughnut holes super fast as well at just 5 minutes!
Less sugar– These actually have less sugar than traditional donuts which is a win for homemade breakfast foods
Delicious– These easily rival your local donut shop in both look and taste.
Customizable– You can change the icing color, add a simple glaze and sprinkles to make these perfect for any occasion. Two popular additions could be a cinnamon sugar mixture or chocolate glaze.
Air Fryer Donut Holes Ingredients
Biscuit dough; I used large biscuits because I find once cut into fours they make the perfect size for donut holes. I also choose regular versus flakey biscuit dough.
Confectioners sugar; This is the core ingredient of the icing. It hardens just like regular donut icing! It's also called powdered sugar.
Butter; I used regular salted butter which gives this a nice balance to the sweetness.
Vanilla Extract; This gives the icing a nice balanced flavor.
Water; This helps thin the icing out a little bit. You do not need much and depending on your type of food coloring you may need even less than I used here.
Food Coloring (Optional); I used color kitchen because it is free of harmful artificial dyes but you are welcome to use whatever you have on hand.
How to make Air Fryer Donut Holes?
Start by gathering your ingredients for your icing, these cook super fast so you want to be ready.
Cut your large biscuits directly down the center and then in the center of each half again.
Roll the cut biscuit pieces one by one into a loose ball shape.
Preheat your Air Fryer to 350 degrees F.
Place the biscuits about an inch apart in a single layer, into a preheated Air Fryer basket and set the time for 5 minutes.
Put confectioners sugar, vanilla extract, melted butter and water into a bowl. Use an electric whisk to mix until lumps have disappeared.
Remove donut holes from air fryer and place on a cooling rack, they should be golden brown and allow to cool slightly to handle or to room temperature. This should take at most about 2-3 minutes
Dip donuts one at a time into the icing and place icing side up on a plate.
Decorate with sprinkles immediately before icing hardens if you choose to.
Enjoy
Air Fryer Donut Hole Frequently Asked Questions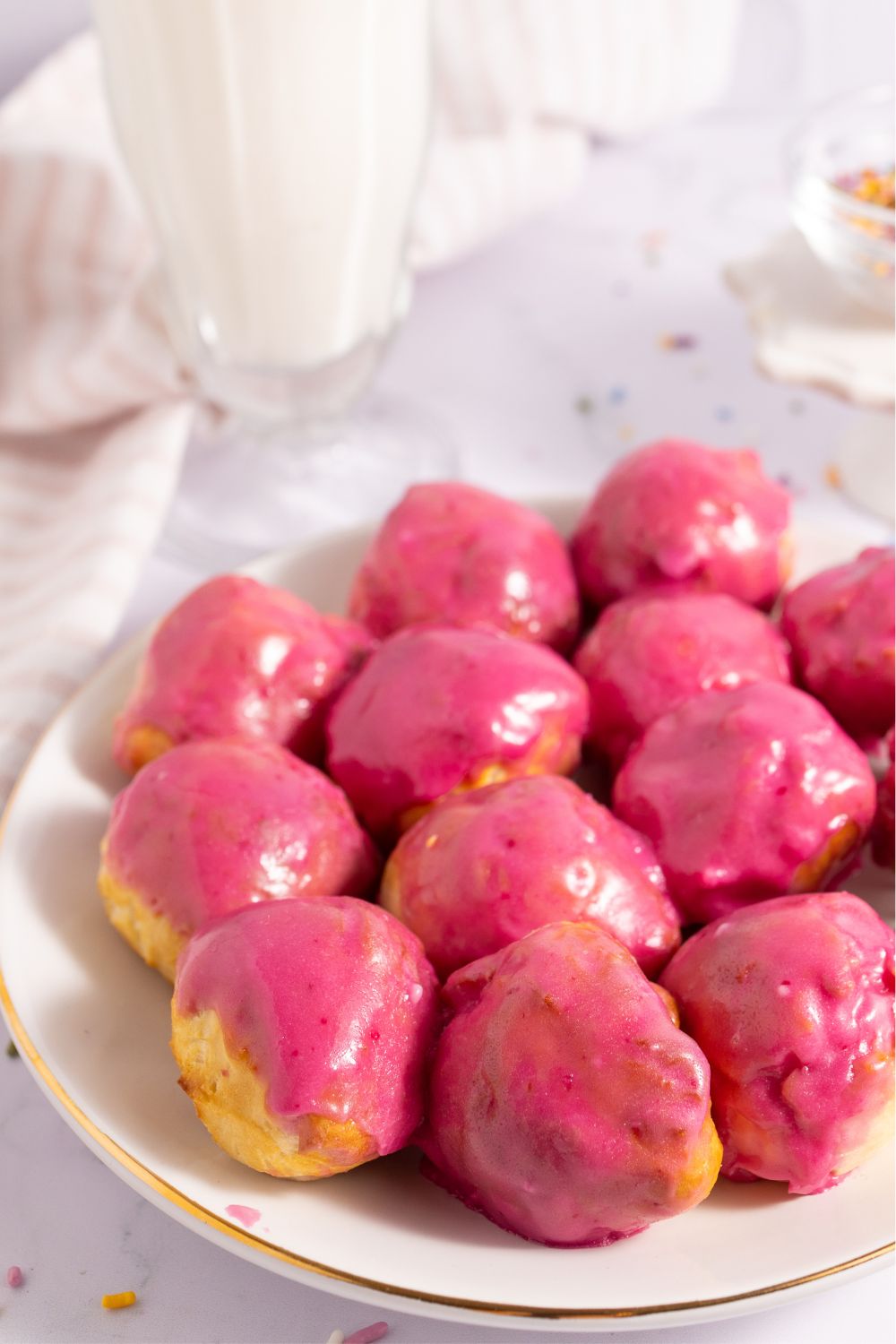 Can I use the small can of biscuits? Yes small biscuits would work. I would cut them in half just one time and then roll those halves to make the donut holes. I have also seen recommendations for cutting out the center of each biscuit to make small holes that way but have not tried it.
Does it matter what biscuit I use? I would opt for more plain biscuits over buttermilk, flakey or other flavored varieties. I think you'll still get ok results but the flavors may compete and make them less donut like.
Can I make these ahead of time? These can be made a few hours ahead of time but I wouldn't recommend much more time than that. The biscuits and icing both start to degrade, similar to actual donuts. If you are trying to make them ahead of time be sure to store leftover donuts in an airtight container for 1-2 days at most.
Can I use different food coloring? Yes you do not have to use color kitchen food coloring here. You can use any color and type you'd like but may just have to experiment a bit to get the color and consistency right. I would reduce the water by 1 tsp if I was using liquid coloring to ensure consistency with the icing.
Do I need to spray my air fryer basket? I personally do not every use cooking spray in my air fryer basket and never have issues. You are welcome to spray yours before hand if thats something you typically do or find that works best for your air fryer.
Let me know if you try these and tag me in your pictures!
The Best Air Fryer Donut Holes
These Air Fryer Donut Holes are so simple to make and will easily rival your local donut shop! Coming together in just 10 minutes, you could make these any day of the week.
Ingredients
1 can jumbo biscuits (8 count)
Icing
1 TBS Water
2 TBS melted butter
1 tsp vanilla extract
1 cup confectioners (powdered) sugar
Instructions
Gather icing ingredients so they are ready to be combined while donuts are cooking.
Preheat your air fryer to 350 degrees.
Cut each jumbo biscuit into equal fourths. In half once and then each half in half again one time.
Roll each biscuit piece into a loose ball between the palms of your hands.
Place the donut hole pieces an inch apart in the air fryer and cook for 5 minutes
Prepare icing by combining all ingredients in a bowl and whisking until smooth with no lumps.
Remove donut holes from air fryer and cool slightly to be able to handle.
Dip each donut hole into icing about halfway on the donut hole and set on a plate.
Use sprinkles immediately if you'd like or they will not set in the icing.