Learn how to make a beautiful Succulent Wreath! They're surprisingly easy to make and they can be enjoyed all year round! Your kids will love helping put these gorgeous wreaths together!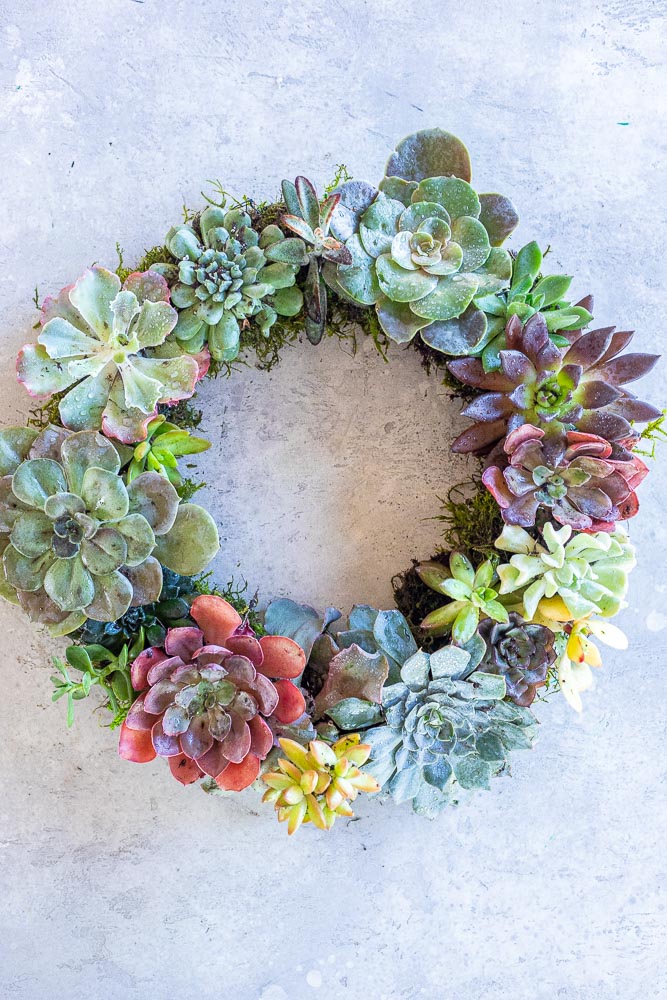 Have you ever seen a more beautiful wreath?! These Succulent Wreaths are much easier to make then you would think and my four year old had an absolute blast helping put it together. We made this one for Christmas but these succulent wreaths are timeless and can be displayed all year long!
I realize that this succulent wreath craft isn't quite as kid friendly as all of our other craft projects, but I guarantee that kids will love making them! They can help with everything from picking out which succulents to use, putting together the moss on the frame and adding the succulents in!
What You'll Need To Make Your Succulent Wreath
Spagham Moss Wreath – The succulent wreath is a living wreath so you want to use a wreath frame with spagham moss attached to it. You can either buy a wreath frame that is already made of moss or you can buy a wire wreath frame, a bag of spagham moss and some floral wire and make your own.
Succulents – The number of succulents you need will depend on the size of your wreath. I like to try to use a mix of different colored succulents if I can find them. I also like to use a mix of large and small succulents.
Floral Pins – Floral pins are used to help secure the succulents to the moss.
Root Stimulator Powder – This is an optional item. I like to dip my succulents into a little root stimulator just to give them a little help to start growing their roots into the wreath.
How To Make A Succulent Wreath
If you are using a wreath frame that already has spagham moss on it, soak the wreath in water for about 10 minutes so until is completely moistened. Ring as much excess water out of it as you can.
If you're making your own wreath, soak your moss in water for about 10 minutes and then squeeze out any excess water. Lay your wreath frame down and then place the moss on top of it. You want it to be about 1 1/2 inches thick at least so there is room to stick the succulents in. You then secure the moss to the wreath frame by wrapping floral wire all the way around it.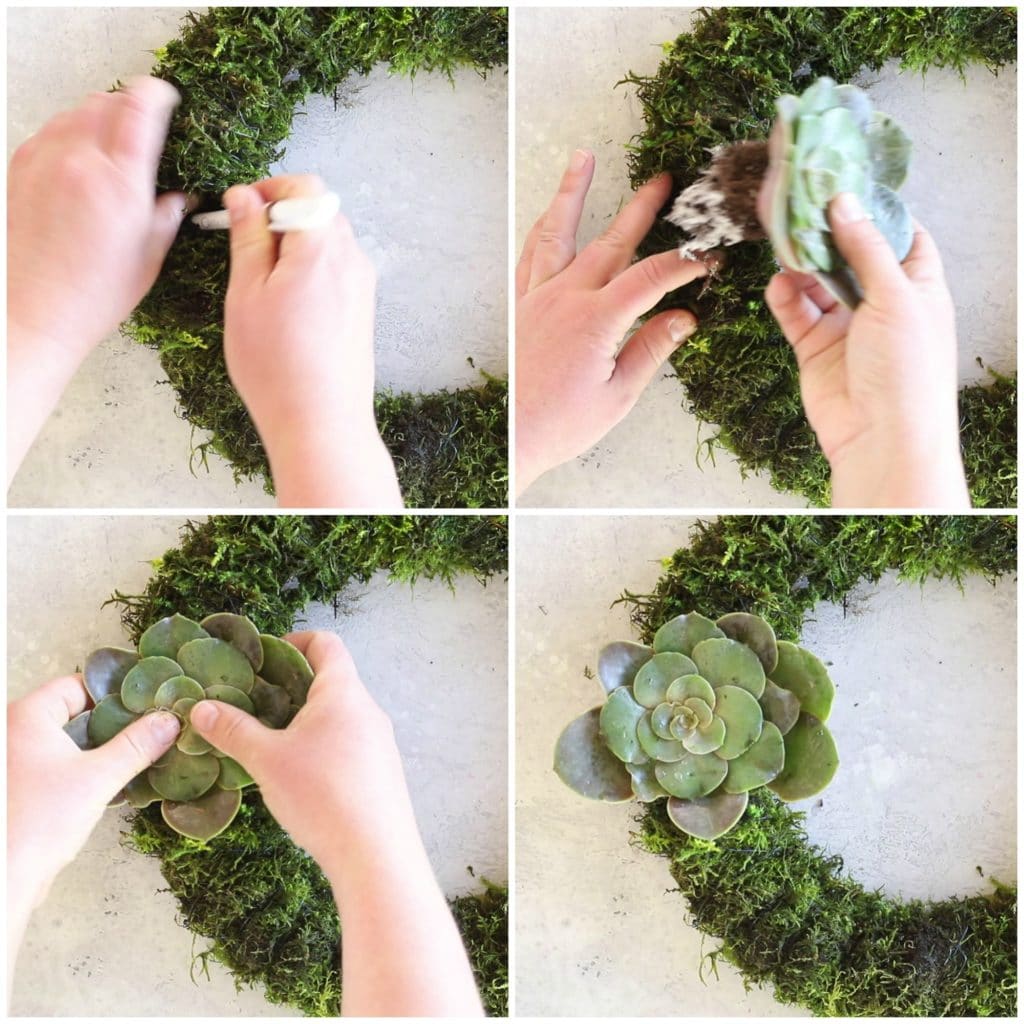 3. Once you have your moss covered wreath frame you can start adding your succulents. It might be helpful to have an idea of how you want to arrange your succulents before you start attaching them but it's not necessary. You will need to remove our succulents from their pots and shake off all the excess dirt. You mainly just want to keep the roots intact but you don't need any extra dirt. Then, use a pen or tip of the scissors to make a crevice or hole in the moss and then stick the succulent in by the roots. You want to make sure it's in their well and then you can secure it by the leaves using a few floral pins. Repeat until the entire wreath is covered and you're finished!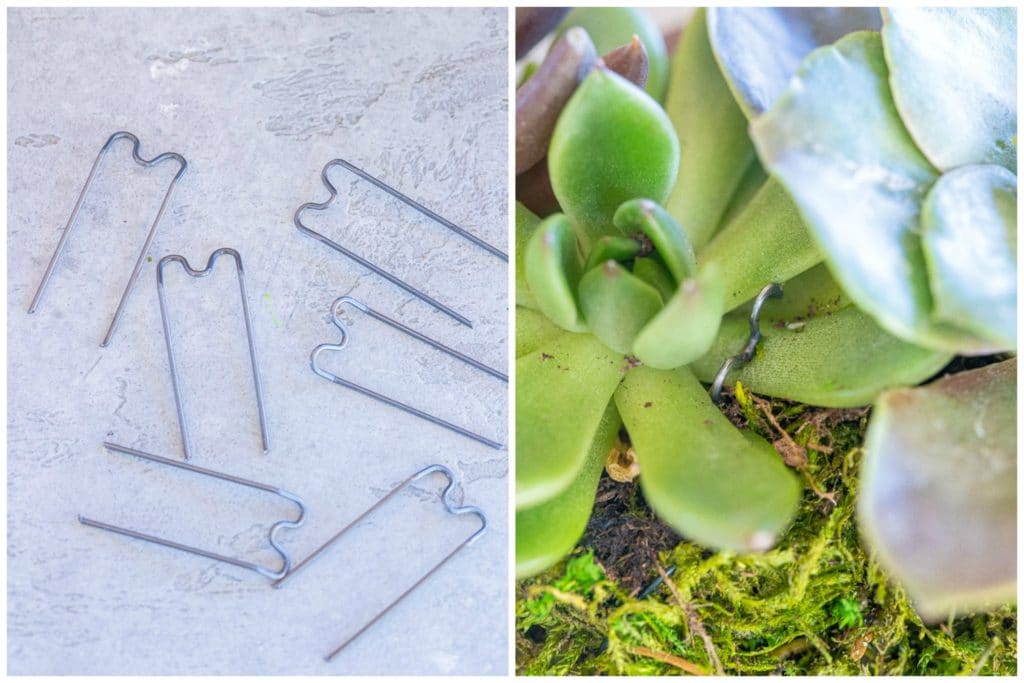 how to care for your living wreath
This Succulent Wreath is a living wreath. The succulents will take root and continue to grow so it's important that you treat it like a plant. I like to spritz mine with water once a week or so but you could also just submerge the entire moss portion of the wreath in water once a month.
You also want to be careful of where you hang it. Don't hang it anywhere it could be damaged by the elements. Since it's really cold here this time of year, I keep my wreath inside because they would freeze if I left them outside. You also want to make sure you hang it somewhere that gets a good amount of sunlight. If you care for these wreaths properly they will flourish and really take off!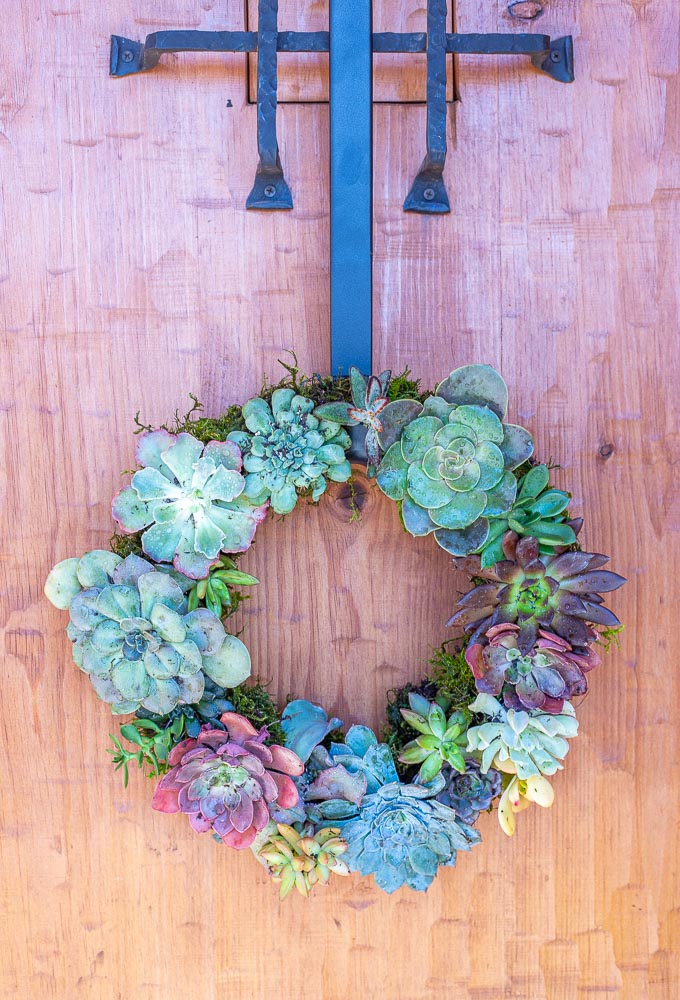 check out exactly how to make a succulent wreath below: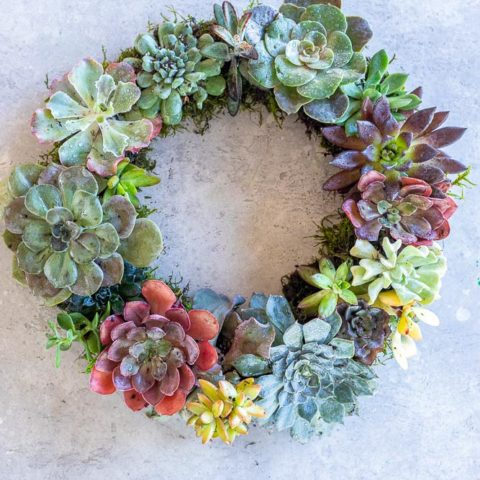 How To Make A Succulent Wreath
These beautiful succulent wreaths are easy to make and can be put out all year long!
Materials
1 spagham moss wreath frame OR
1 wire wreath frame
Spagham moss, I used two 4 quart bags
Floral wire
floral pins
Succulents - number will depend on the size of your wreath frame
Rooting powder, optional
Spray bottle to help water your succulent wreath
Tools
Scissors
Pen, or something long and thin to help make a spot to stick the succulent in.
Instructions
If using a pre-bought spagham moss wreath: soak in water for 10-15 mintues until it's completely wet. Ring out all excess water.
If making your own: place moss into a container and cover with water. Let soak for 10-15 minutes until completely wet. Ring out all excess water.
Lay your metal wreath frame down and place the moss on top in big handfuls. You want it to be a thick enough layer to be able to place the succulent roots all the way into the wreath.
Use floral wire to tightly wrap the moss around the wreath frame so that it is all attached. Remove the succulents from their soil leaving only the root. Dip root into your rooting powder, if you're using it.
Use a pen or point of the scissors to create a crevice, or hole, in the moss big enough to place the succulent roots into. Place the succulent into the hole and press down gently.
Use your floral pins to pin down and secure the succulent. Repeat process until you have used all of your succulents. Spray with a bottle of water and hang up in your desired place!