These Parmesan Roasted Sweet Potatoes are sweet and nutty and such a great snack for your little ones! They're easy to make and can be enjoyed by themselves or with a meal.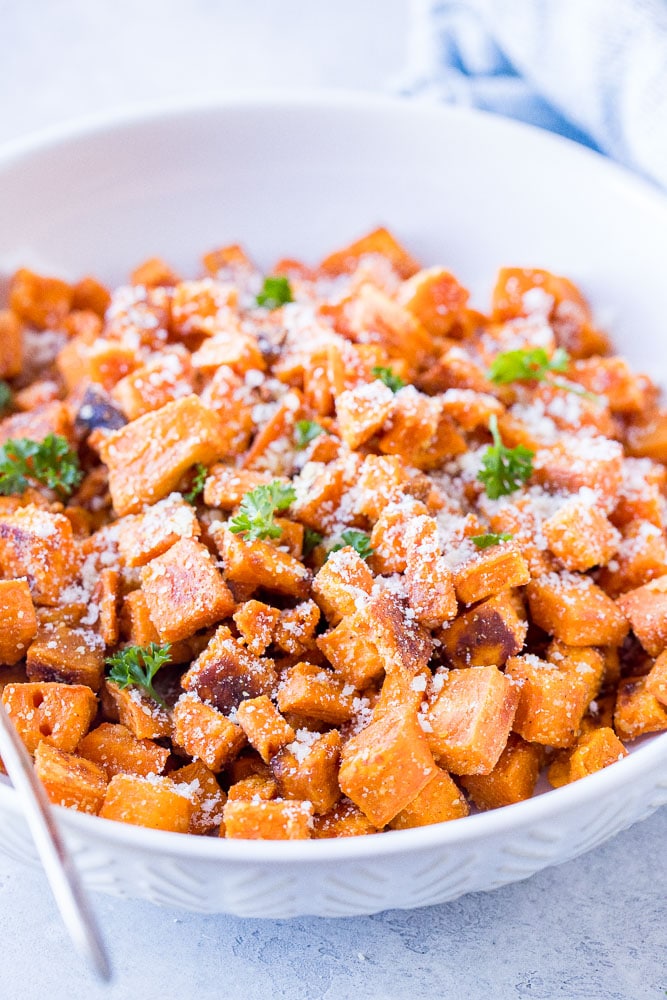 I'm not lying when I say that my kids gobble these Parmesan Roasted Sweet Potatoes up like they're candy. I took the tray out of the oven and before I even had time to take these photos, my son had eaten three handfuls of them. I was surprised when he willingly shared them with his little brother, who also approved 🙂
I make a lot of roasted sweet potatoes with all kinds of different seasonings, but this parmesan version is perfect for kids and it's such a great flavor combo.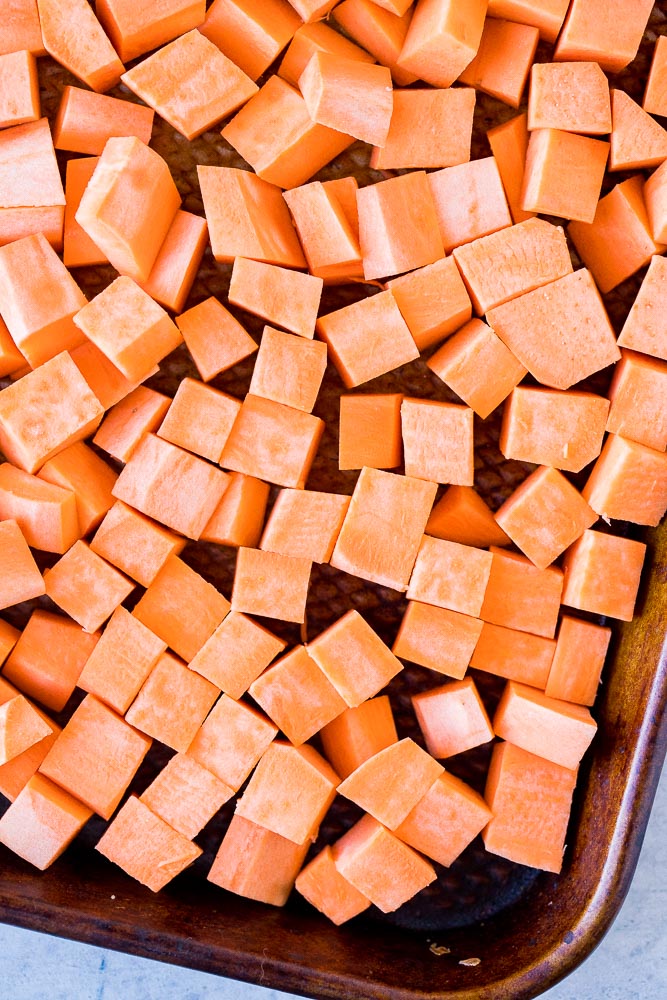 What You'll Need for Parmesan Roasted Sweet Potatoes
Sweet Potatoes – I know there is a big controversy about the difference between a sweet potato and yam, but I just call them all sweet potatoes haha. I like to get the ones that are orange or dark red. I peel them first because they're easier for little kids to eat without the skin on.
Parmesan Cheese – For this recipe I use the parmesan crumbles that you can buy in a container, like you would use on your pizza. They add a nice flavor without getting too melty and making the sweet potatoes stick together.
Olive Oil, Salt and Pepper – You could also add a little bit of garlic powder to make them Garlic Parmesan flavored but it just depends if your kids will be ok with that.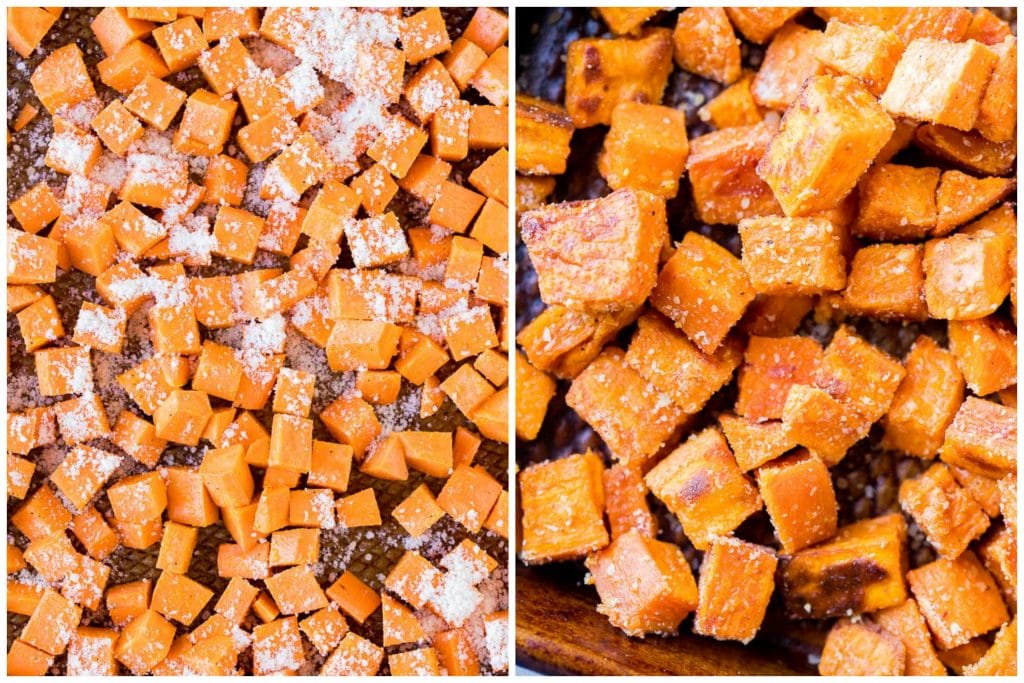 How To Make Parmesan Roasted Sweet Potatoes
They're so easy to make! The most time consuming part is dicing the sweet potatoes but that's not hard at all.
You start by peeling and dicing your sweet potatoes. I dice mine pretty small so that my 10 month old won't have a problem with them.
You then toss them together on a Sheetpan with olive oil (or oil of choice) salt and pepper. Next, you sprinkle the cornstarch on top and toss together until you an see it anymore and then you add the parmesan cheese and mix one last time before putting in the oven.
Roast sweet potatoes until golden brown and fork tender, about 40 minutes. Let cool before letting your children eat by the handful 🙂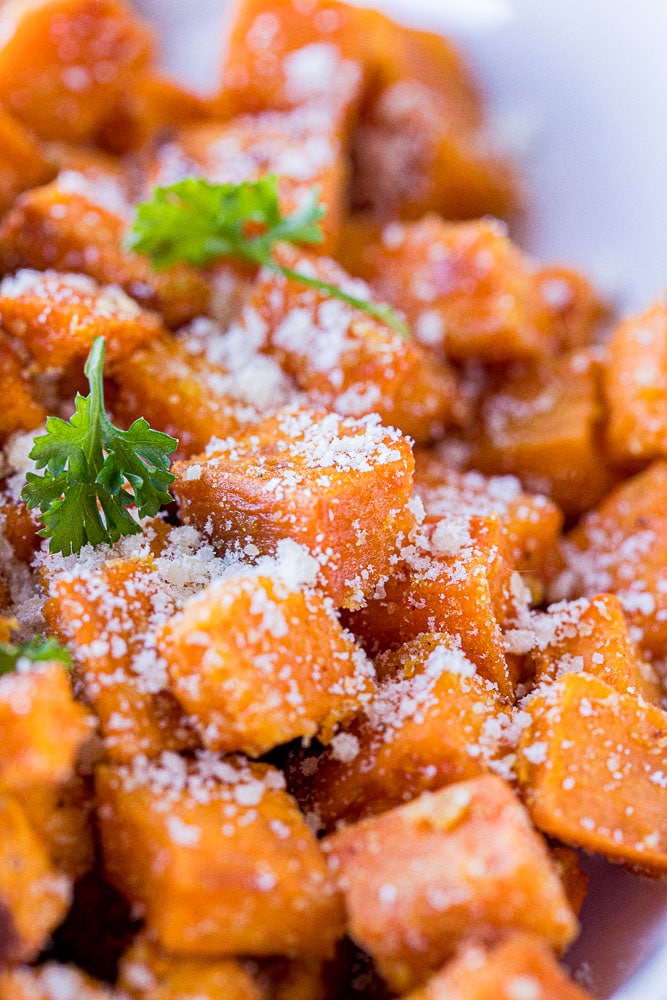 Why Kids Will Love This Roasted Sweet Potato Recipe
I don't know about your kids, but my kids go crazy for sweet potatoes. They're soft and easy to eat and they're naturally sweet! Pureed sweet potato was among the first foods for each of my kids and my three year old still loves them today. Adding parmesan gives them a nice cheesy, nutty flavor and anything with cheese on it is hard for kids to resist!
You can easily make these dairy free by using vegan parmesan cheese instead of the regular kind.
Parmesan Roasted Sweet Potatoes
Your kids will love these Parmesan Roasted Sweet Potatoes! Enjoy as a snack or part of a meal.
Ingredients
6 cups diced and peeled sweet potato
1 tablespoon olive oil
1/2 teaspoon salt
1/4 teaspoon black pepper
2 teaspoons cornstarch, or arrowroot powder
2 1/2 tablespoons grated parmesan cheese, divided
Instructions
Pre-heat oven to 400 degrees F. On a large sheetpan, toss together the sweet potato, olive oil, salt and pepper. Next, sprinkle on the corn starch and toss until you can't see it on the sweet potatoes anymore.
Next, add 1 1/2 tablespoons parmesan cheese and mix until combined. Roast sweet potatoes until golden brown and fork tender, about 40 minutes, flipping once.
Remove sweet potatoes from the oven and spinkle on the remaining tablespoon of parmesan, stir and let sit until cool enough to enjoy.
Notes
The Corn Starch is an optinal ingredient but helps the sweet potatoes crisp up a little bit.
Nutrition Information
Yield

6
Serving Size

1
Amount Per Serving
Calories

226
Total Fat

3g
Saturated Fat

1g
Trans Fat

0g
Unsaturated Fat

2g
Cholesterol

2mg
Sodium

296mg
Carbohydrates

45g
Fiber

7g
Sugar

13g
Protein

6g
Nutrition information will differ depending on the brand of products used.