This is truly the Best Caramel Corn recipe and it makes a perfect home-made Christmas treat. It's loaded with pecans, and it's sweet, but not too sweet, crunchy, and so easy to make too.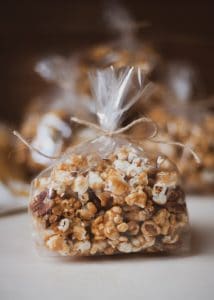 I've been making this caramel corn with my mom since I was 10! I've been tweaking my mom's caramel corn recipe over the last 25 years and now I think it's finally the very best! Super caramely, sweet and salty, and always has a good crunch. And the decadent pecans make it even better! Read on to learn how to make this delicious Christmas treat.
What you will need to make the best Caramel Corn with pecans
Plain popcorn. You will need at least 15 cups of plain popcorn for this recipe. I always pop my own, because it's cheap and easy and always comes out fresh. I heat 2 tablespoons of olive oil in a large heavy pot over medium heat, and pour in enough popcorn kernels to evenly cover the bottom of the pot. Then I place the lid on the pot and as it pop, I shake frequently to keep it from burning. When the popping slows down, I transfer the popcorn into a large roasting pan. If you don't have a popcorn popper and cooking it over the stove just isn't your thing, you can find all kinds of popcorn at the grocery store, just be sure to get plain, unsalted popcorn.
Pecans. You will need 2 cups of raw pecan halves for this recipe and fresh organic nuts are best. Nuts can be omitted, of course, just replace them with two cups of popcorn.
Salted butter. If you don't use salted butter, that's okay, you can just add a pinch more of salt to the caramel sauce instead.
Brown sugar. Light or dark brown sugar will both work great.
Light corn syrup. This is not the healthiest ingredient, of course, but it is essential for the gooey caramel texture you need.
Baking soda. The baking soda reacts with the acid (which is the brown sugar and corn syrup in this case) and creates foamy carbon dioxide bubbles. This process creates a caramel with a super soft texture.
Roasting pan. You will bake the caramel corn in a large roasting pan (like the size you would use to roast your Thanksgiving turkey).
How to make the caramel sauce for the best Caramel Corn
Melt and mix ingredients. First, you will need to heat the brown sugar, butter, light corn syrup, and salt over medium heat in a medium sized heavy saucepan. Cutting your butter into small cubes will speed up the melting process. With a wooden spoon, stir continually until it is well combined and has a nice golden caramel color.
Boil caramel sauce. Once you see little bubbles forming around the edges of your pot, stop stirring and let it sit over medium heat, for 5 minutes, untouched.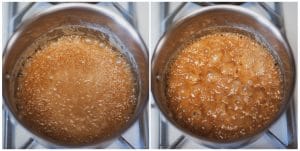 Add baking soda. After 5 minutes, remove from heat and add 3/4 teaspoon of baking soda. You will see it foaming up immediately, which is the chemical reaction you need to create super soft caramel.
Baking the Best Caramel Corn with pecans
Pour caramel sauce over popcorn. Once you have mixed the baking soda into the caramel sauce, pour it over the prepared popcorn and pecans in the roasting pan. Pour the caramel sauce evenly and then with a spatula, mix the popcorn and nuts into the caramel sauce until everything is evenly coated.
Bake caramel corn. Spread the caramel covered popcorn and pecans evenly in the large roasting pan and then you will need to bake at a low temperature for quite a while. Bake at 225 degrees for at least two hours.
Stir every 20 minutes. The caramel corn will need to be stirred every 20 minutes during its two hour bake time.
Cool completely. While the caramel corn is baking, place three large sheets of wax paper on a flat surface. After the caramel corn has baked for two hours (or until it is crunchy), take it out of the oven and turn it over onto the wax paper. Spread the popcorn out evenly and allow it to cool completely, for about 30 minutes.
Store in an airtight container. Once the caramel corn is completely cool, be sure to store it well to keep it fresh. It will grow stale rather quickly if left out. I usually transfer the popcorn to a large serving bowl if we are enjoying it right away or into two large ziplock bags. Then I seal them tight until I'm ready to bag them up in cute holiday snack bags to give out as gifts or keep for a holiday party. This caramel corn will stay fresh, if sealed, for up to three weeks.
Pecan Caramel Corn
Additional Time:
30 minutes
Ingredients
15-18 cups popcorn
2 cups raw whole pecans
3/4 cups salted butter
1 1/2 cups brown sugar
1/2 cup light corn syrup
1/4 teaspoon salt
3/4 teaspoon baking soda
Instructions
Preheat oven to 225 degrees.
Prepare 15-18 cups of plain popcorn. Place popcorn in a large roasting pan and sprinkle 2 cups of raw whole pecans on top of the popcorn.
Heat salted butter, brown sugar, light corn syrup, and salt in a medium heavy saucepan over medium heat. Stir continually with a wooden spoon until the ingredients are melted and well-combined.
Once bubbles begin forming around the edges, cook over medium heat for 5 minutes, without stirring.
Remove from heat and add 3/4 teaspoon of baking soda. Stir until foamy.
Pour the foaming caramel sauce over the prepared popcorn and nuts and stir together until the popcorn and nuts are evenly coated with caramel.
Spread evenly in the roasting pan and bake for 2 hours in the heated oven, stirring every 20 minutes.
Turn over onto wax paper and allow to cool completely, for about 30 minutes.
Store in an airtight containter for up to 3 weeks.
Nutrition Information
Yield

30
Serving Size

1
Amount Per Serving
Calories

535
Total Fat

34g
Saturated Fat

8g
Trans Fat

7g
Unsaturated Fat

22g
Cholesterol

12mg
Sodium

635mg
Carbohydrates

53g
Fiber

8g
Sugar

14g
Protein

6g
Nutrition information will differ depending on the brand of products used.