This Outdoor Alphabet Activity is a fun way for your children to practice their alphabet while also getting out into nature! This activity can be done all year long and it's fun for both kids and adults 🙂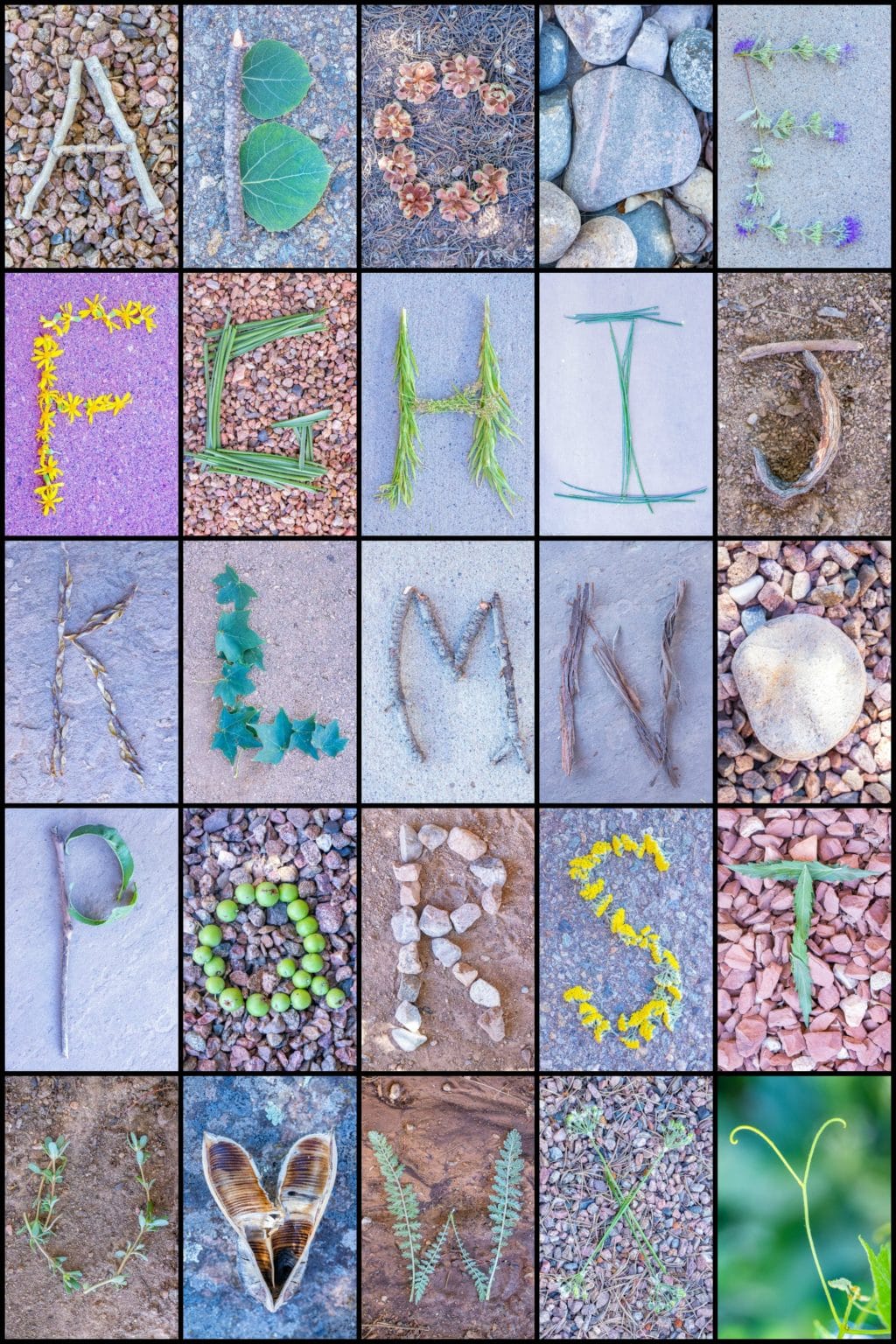 The summer is winding down and we're trying to spend as much time outside as we can. We're also doing a little bit of homeschooling, mostly I'm just trying to teach Eli his ABC's, so this Outdoor Alphabet Activity was a perfect combination of outdoor play and homeschool lessons.
My four year old is a very active child and would rather be running around outside than sitting in a chair and "learning". He really loved this alphabet activity though because he recognized a lot of the letters and get got to collect nature items and make this own.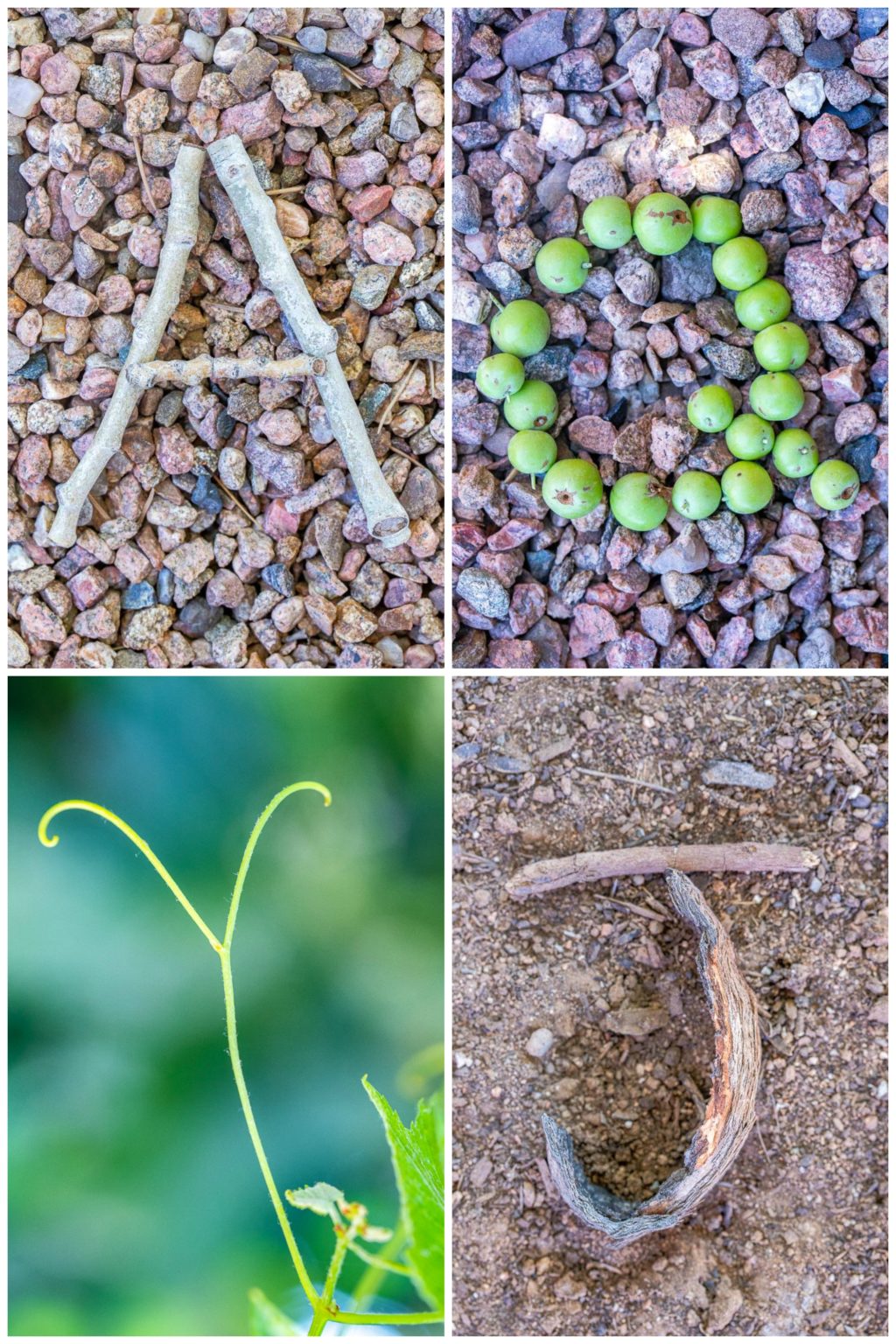 What You'll Need For This Outdoor Alphabet Activity
There really isn't much you need except whatever nature items your yard or neighborhood has to offer. We just explored our backyard and we were able to make the entire alphabet! We did a mixture of finding things in nature that already resembled letters, like the Y made out of a grape vine and the V made out of a yucca seed pod and then we also made complete letters out of multiple nature items, like you see with the Q made out of crab apples and A made out of sticks.
If you want to document each letter, like we did, you will want to have your camera handy. You can then add all your photos to a collage and even print it out if you like. It would be a great addition to a playroom or kid's room!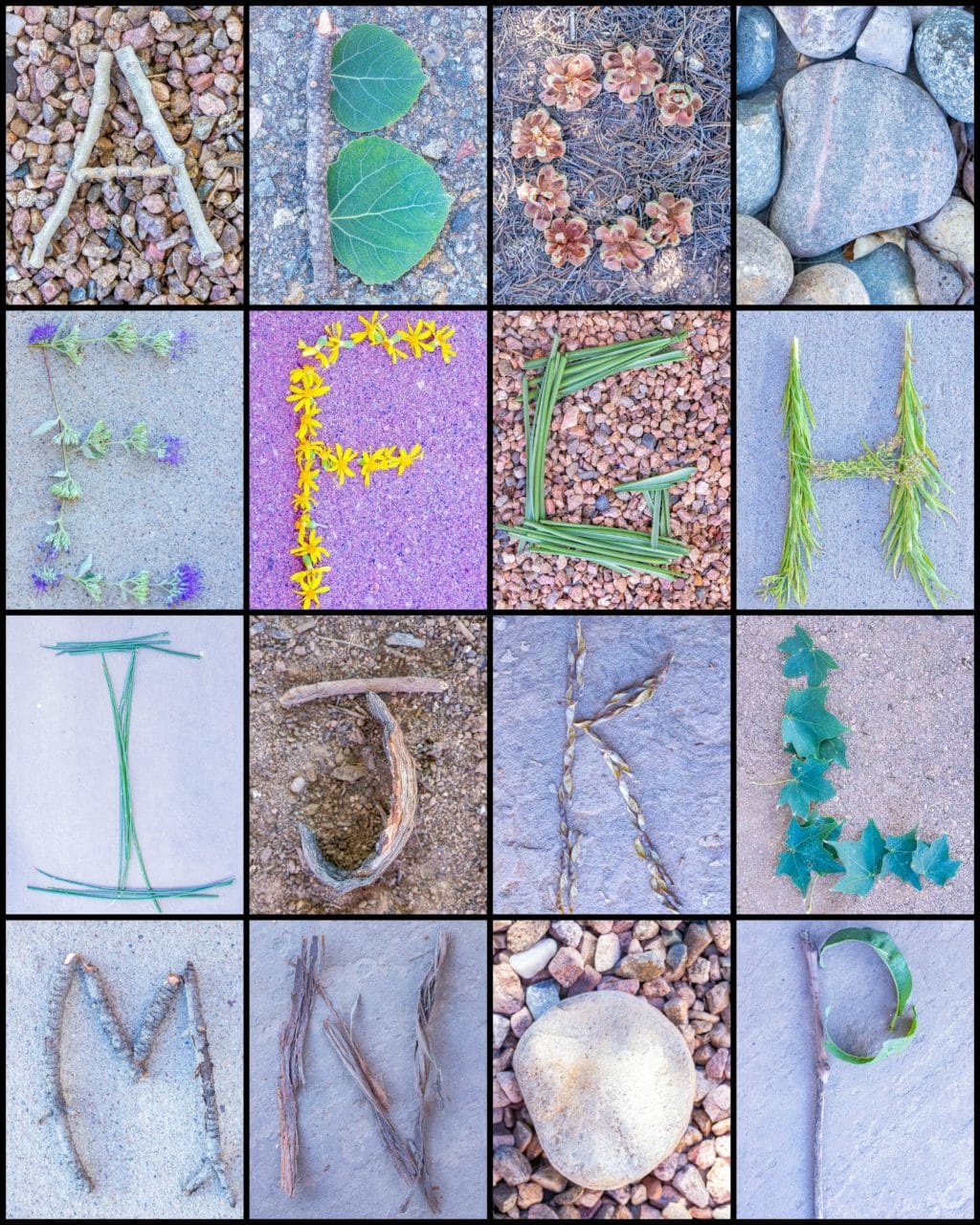 How To Approach This Alphabet Activity
There are a few ways you can approach this activity with your child. I'll give you a few options but you know your child best and what they will enjoy most.
If your child is very familiar with the alphabet you can just have them the letters independently.
You can show your child a picture of each letter and then ask them to re-create that letter using nature items.
If you child is just starting out learning the alphabet, you can let them help pick the nature materials out and then you can create the letter and see if they can guess what it is.
You could also have your child create full words instead of the alphabet if they are really advanced.
What We Love About This Activity
You can do it anytime of the year. All you need is some nature items, you can use sticks, rocks, pinecones or fresh flowers, leaves and grass.
This activity can be done by children of all different age levels. I wrote above about how you can adapt this outdoor alphabet activity to any age.
It really brings the classroom outside. You children are learning/practicing their alphabet while also exploring the outdoors.
If you're looking for more nature based alphabet activities, make sure to check out our Twig Letters!
Outdoor Alphabet Activity
This is a fun and creative outdoor activity to help your child recognize and create their letters!
Tools
Camera - if you would like to photograph your letters
Instructions
Take your child outside and help them create their outdoor alphabet using nature materials. You can either create the letter for them and have them name the letter or you can name a letter and have them creat it.
If you like you can photograph your letters and put them together in a collage like we did.