These Pinecone Flowers are a gorgeous nature craft that your kids will love! Make one flower or make an entire bouquet! They're also great for a thoughtful Mother's Day gift.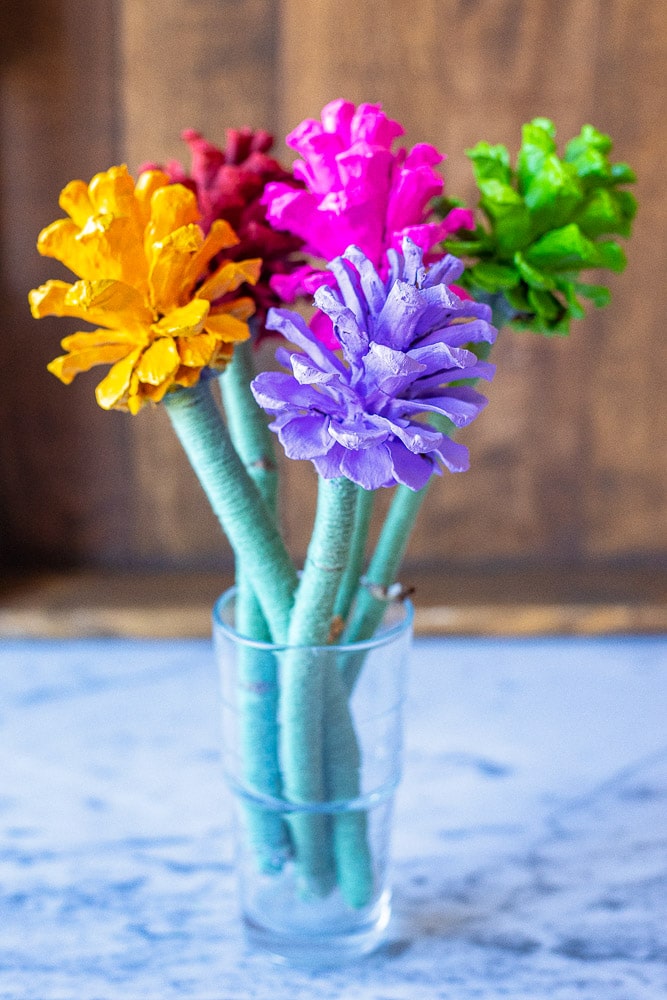 Mother's Day is just a week away and these beautiful Pinecone Flowers will make the perfect Mother's Day gift! They're fun to make and they're a forever keepsake. You can either make one or make a while bouquet!
We've been doing lots of nature hiking lately and I alway see so many pinecones on the trail. Each type of coniferous tree has a different looking pinecone and they're so fun to play with. They always look like perfect flowers to me, so I thought it would be fun to make them into these beautiful Pinecone Flowers!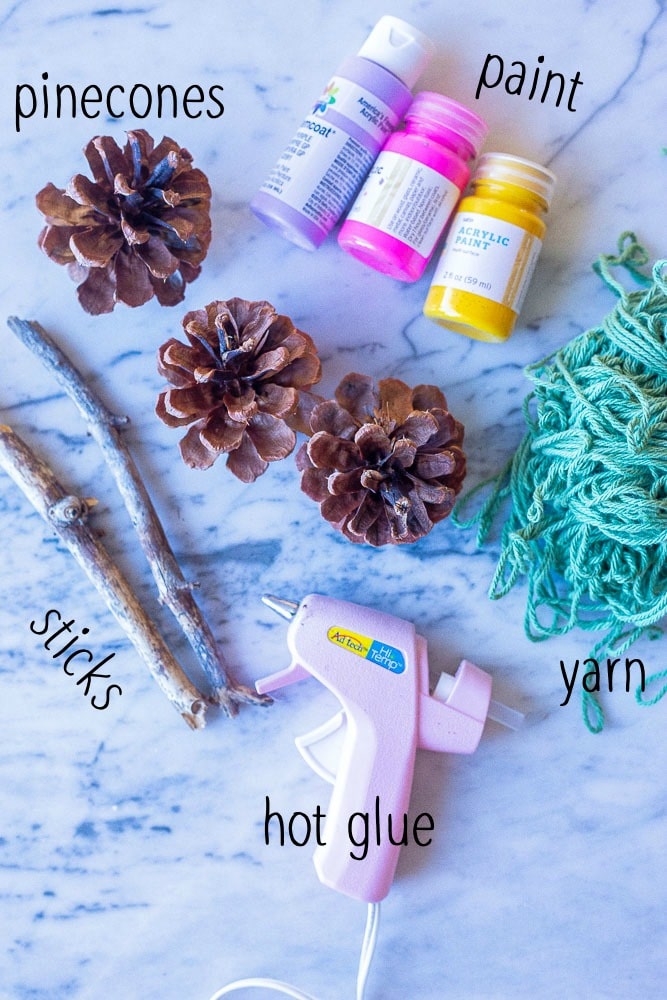 Supplies Needed for these Pinecone Flowers
Sticks – You can use any size of stick you like! I made a bouquet of pinecone flowers so I tried to find similar sized sticks so they would all be about the same size. You could be able to find sticks anywhere outside.
Pinecones – There are lots of different kinds of pinecones out there. Just find ones that you like. It would be fun to make a pinecone flower bouquet out of a few different shaped pinecones. Again, you could be able to just find pinecones outside as long as you live in a place with conifers. If not, you can also buy pinecones at a craft store or online.
Yarn – I used a thin green yarn but you can use any size or color you like. You can even do multicolored stems, like these Rainbow Wands.
Hot Glue – Hot glue is the best kind of glue to use in this project because it dries really quickly and is really great for making sure the pinecone really sticks onto the top of the stick. You could use Elmers glue or superglue but it would take longer to dry.
Paint – Any kind of paint except for watercolors would work well for these Pinecone Flowers. I used acrylic paint because that's just what I had on hand, but Crayola paint would work well too. I found that the matte paint looked better than glossy paint.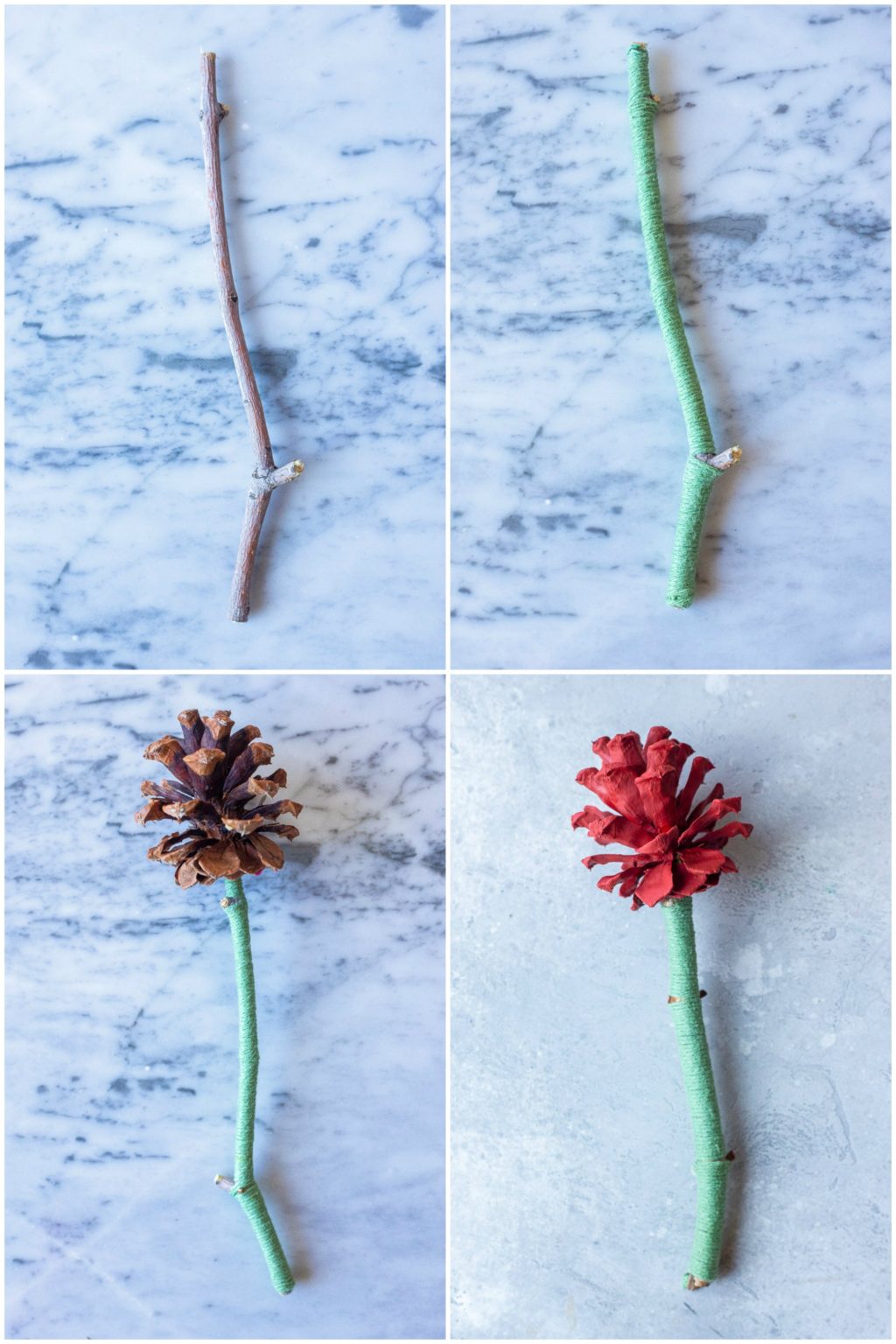 How To Make Pinecone Flowers
These Pinecone Flowers do take a little bit of time but they're really fun and easy to make!
You start by wrapping your stick in yarn. This part can take a little bit of time, especially if you have a large stick, but it's easy and a fun activity for kids to do.
You then use your hot glue to glue the pinecone to the top of the stick. You'll want to make sure to be generous with the hot glue and hold the pinecone to the stick for a few minutes to make sure the hot glue has completely hardened around it.
Now it's time to paint your pinecones. It's best to use a medium sized paintbrush so you can really get into all the little crevices of the pinecone, but also not small enough that it will take forever to paint them. I used two coats of paint to really make the pinecones pop.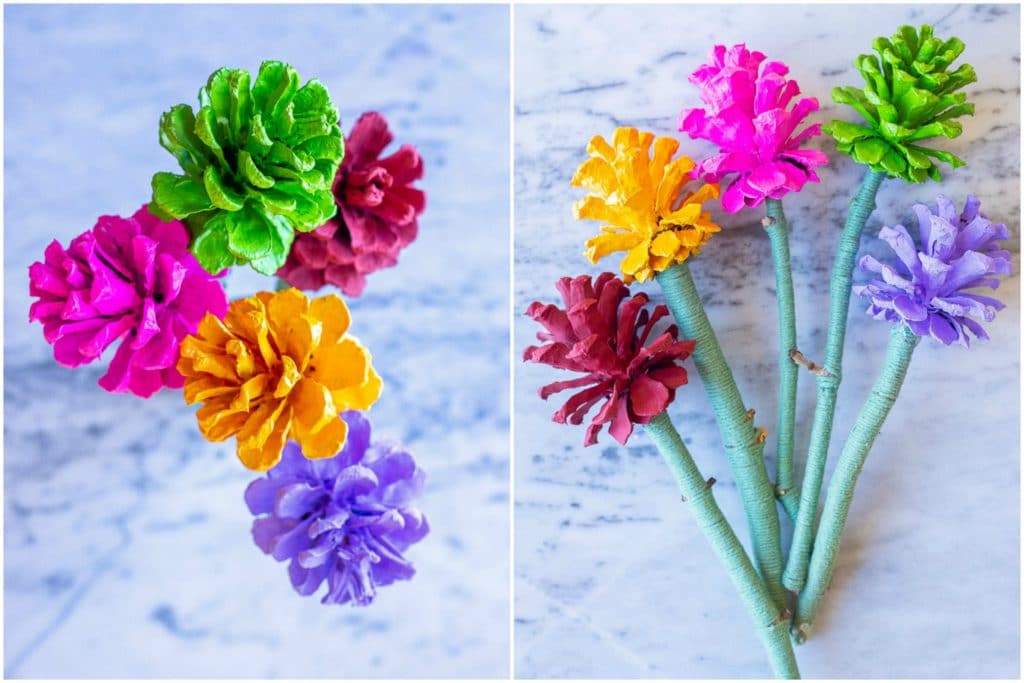 Get Creative With Your Pinecone Flowers!
Paint your pinecones rainbow colors like we did or paint them all one color to make a single flower bouquet.
Use a color other than green for the yarn stems or you can even do multiple colors of yarn.
Use different sizes and kinds of pinecones for a unique and different looking bouquet.
Use different sizes of sticks to have a bouquet with some flowers standing taller than the rest.
Keep it natural and don't paint your pinecones or don't wrap colored string around your sticks.
You can really get creative with these and make them your own!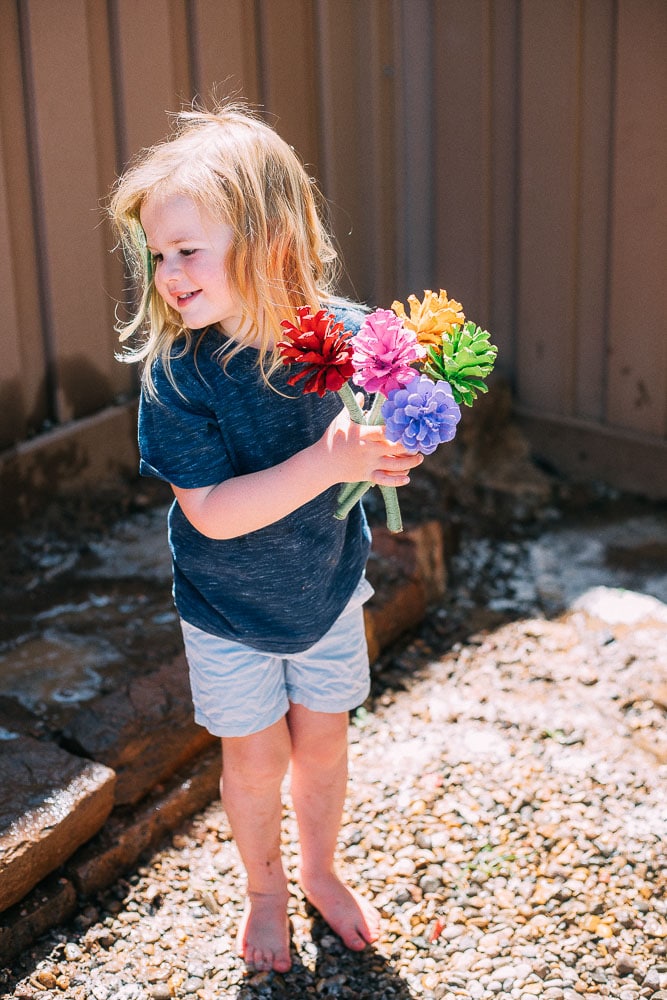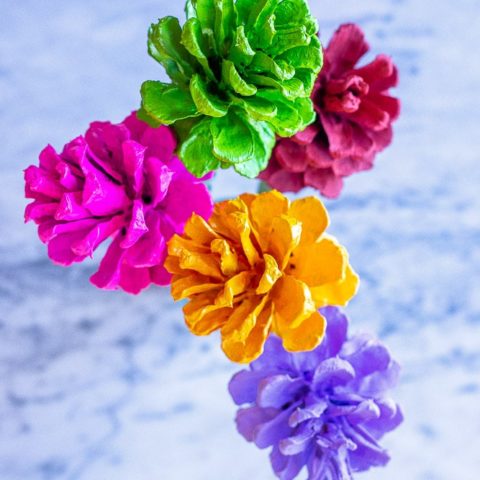 Pinecone Flowers
Yield:
As many as you like
These Pinecone Flowers are a fun and easy craft that would be perfect for a thoughtful mother's day gift!
Materials
Sticks
Pinecones
Green yarn
Hot glue
Paint
Instructions
Use the hot glue to glue the string to the very bottom of the stick. Tighly wrap the yarn around the stick and then glue the top of the yarn to the top of the stick.
Glue the pinecone to the top of the stick. You will need to hold it together for a few minutes while it dries to make sure it sticks well.
Paint the pinecone with your choice of paint color. Make sure you get the tops and the bottoms of the pinecone. Let dry and enjoy! Make as many as you want!