This Easy Peanut Butter Tofu is a healthy and delicious plant based meal that is packed with protein! It's great for kids and adults and you can add extra veggies if you like!
I know some people are a little weary of tofu. It doesn't have much taste on it's own but if you flavor it up, it can be delicious! Another great thing about it is that my son loves it. He also happens to love peanut butter, so this Easy Peanut Butter Tofu is a huge hit in our house.
This recipe is packed with protein from both the tofu and peanut butter and you can easily add in some stirfry veggies if you like. I like to top it over rice, or cauliflower rice, because I don't think I've ever met a kid who didn't like rice 🙂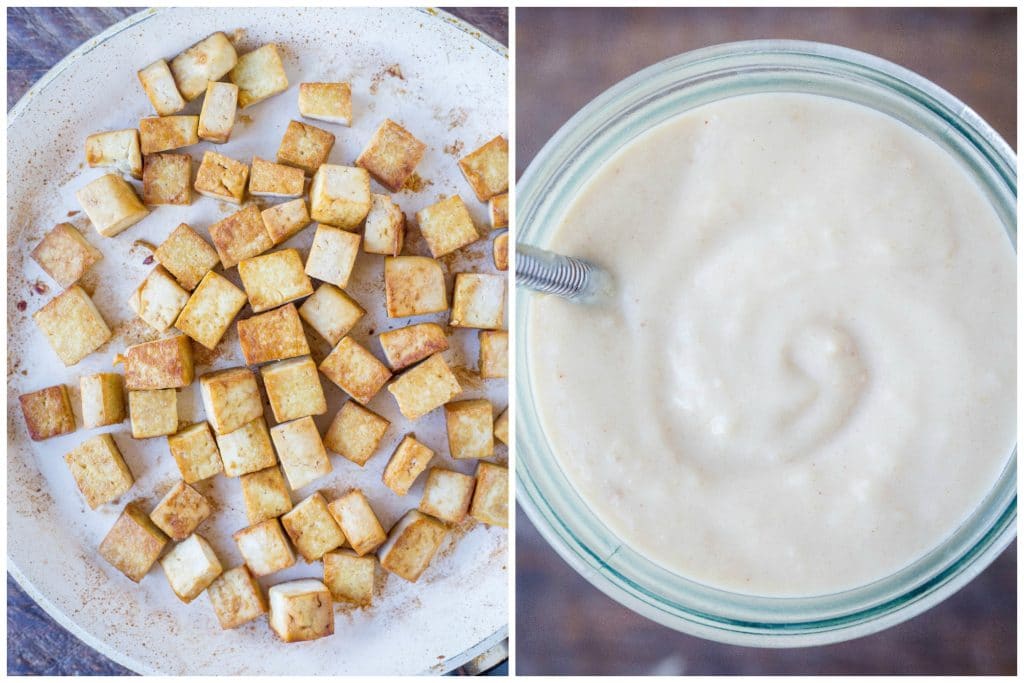 What You'll Need For This Peanut Butter Tofu Recipe
Tofu – You will want to use extra firm tofu for this recipe. If your tofu is packed in water you will need to pat it dry and press it for a few minutes, if desired. Lately I've been buying a super firm, extra protein tofu that I have found at Sprouts and Trader Joes. It's pre-pressed so you just need to pat it dry and cut it up.
Peanut Butter – I like to use unsalted, creamy peanut butter for this recipe. You will need to make sure the peanut butter is room temperature or else the sauce won't be smooth. I add a little water to thin the sauce out and you can experiment with more or less water depending on how thick you want the sauce.
The rest of the ingredients are to help flavor the peanut butter sauce and are pretty self explanatory.
How To Make Peanut Butter Tofu
Not only is this Peanut Butter Tofu kid friendly and packed with protein, it's also really easy to make!
You start out by dicing the tofu into bite size pieces. You can make them however small or large you like. You then brown them up in a skillet with some oil and tamari, or soy sauce.
While the tofu is cooking you can make your peanut sauce by whisking together all the ingredients until smooth.
You then toss the tofu with the peanut sauce and serve over rice or veggies.
Even if you're family isn't vegetarian, I've found that a lot of young kids don't like eating meat very much. Or maybe it's just my child, haha. He loves tofu though, so I add it into our pasta dishes, stirfrys, and salads a lot. It's easy to make, tastes great and is the perfect vegetarian/vegan substitute for a lot of meat dishes.
Easy Peanut Butter Tofu
This Easy Peanut Butter Tofu is packed with tons of protein and a great meal for both kids and adults!
Ingredients
1 package extra firm tofu
2 teaspoons sesame oil, or your favorite kind
1 tablespoon tamari, or soy sauce
Rice or vegetables for serving over, if desired
Peanut Sauce:
1/2 cup creamy peanut butter, room temperature
2-3 tablespoons room temperature water, or more if you don't want it as thick
1 tablespoon fresh lime juice
1 teaspoon freshly grated ginger
1 small clove garlic, grated
2 teaspoons tamari, or soy sauce
1 teaspoon rice wine vinegar
1/2 teaspoon pure maple syrup
Pinch salt
Instructions
Pat tofu dry and cut into bite size pieces. Heat a large skillet over medium heat and add olive oil, tofu and tamari. Cook tofu until brown on all sides, 10-12 minutes, stiring occasionally.
Add all peanut sauce ingredients to a small bowl and whisk until combined. Pour peanut sauce over tofu and mix until all the tofu is coated.
Serve peanut butter tofu over rice and garnish with sesame seeds and green onion, if desired.
Nutrition Information
Yield

4
Serving Size

1/4
Amount Per Serving
Calories

310
Total Fat

20g
Saturated Fat

4g
Trans Fat

0g
Unsaturated Fat

13g
Cholesterol

0mg
Sodium

1056mg
Carbohydrates

24g
Fiber

3g
Sugar

4g
Protein

13g
Nutrition information will differ depending on the brand of products used.