Earth Day is coming up soon and these fun Earth Puzzles are the perfect Earth Day activity to do with your kids! They'll have a great time making them and they'll love playing with them!
Earth Day is on April 22nd and I feel like it's such an important day to observe with our children. Kids are so impressionable and the more we teach them to take care of the earth, the better off our future will be. These Earth Puzzles are such a fun activity to help celebrate Earth Day this year!
There are so many different ways you and your child can create these Earth Puzzles, which really allows your child to be creative. There is also so many different skills practiced in this activity, so it really covers a lot of bases!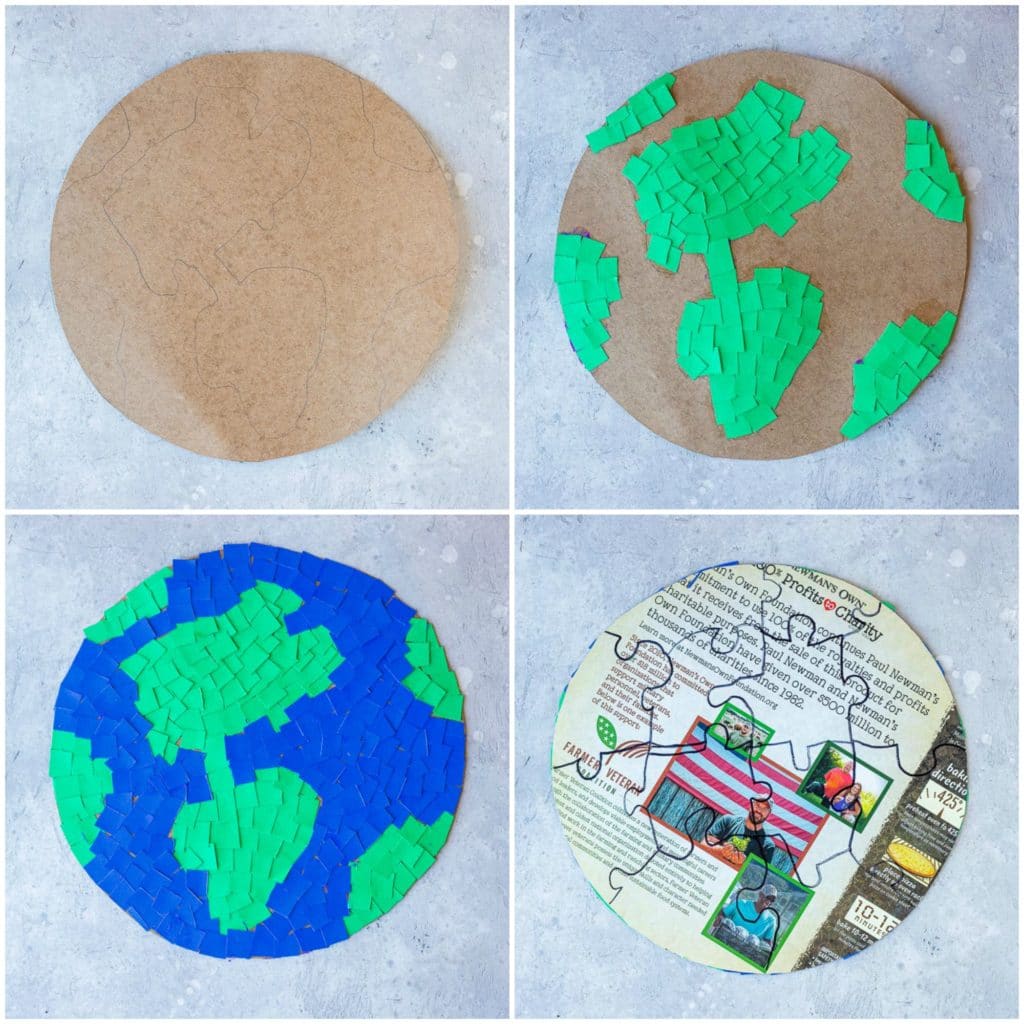 Skills exercised in this earth puzzle activity
Tracing – To make the perfect earth circle it's easy to use a large bowl, or whatever you have lying around, to trace your circle.
Cutting with scissors – They will cut the circle out of the cardboard (you may have to help with this one depending on how thick the cardboard is), cut all the paper up to make a mosaic and lastly they will cut out the puzzle pieces which will require some scissors skill!
Drawing – Your child will get to draw their version of the world. They can just do a few continents or do all of them. They can be as abstract or as realistic as they desire.
Gluing – They get to practice their precision by gluing all the mosaic construction paper pieces to their earth.
Solving a puzzle – Solving a puzzle helps them develop hand eye coordination, shape recognition, concentration and patience, among other things.
Tips and suggestions for making your Mosaic Earth Puzzle
I originally tried these with thicker cardboard and it was too difficult for me to cut the puzzle pieces out of. If you have an exacto knife that might help, but ultimately I used thinner cardboard.
Using the thin cardboard doesn't allow the puzzle to stay together as well if you were to try to move it, but it can still be done at the table.
I decided to do a mosaic for my earth puzzle but you could also paint yours or use tissue paper instead of construction paper. Whatever you have around will work!
You can make this puzzle into however many pieces you like. I found a circle puzzle on the internet and tried to copy it as best as I could. Here is the one that I liked because it had large pieces and is easy to put together.
Allow your child to get as creative as they like with this Earth Puzzle project! They can use other colors than just blue and green and they can draw their earths as abstract as they like!
I topped mine with contact paper to make it more durable, but that step is optional. I also liked it because it secured all the mosaic pieces so if you're painting your earth it may not be as necessary.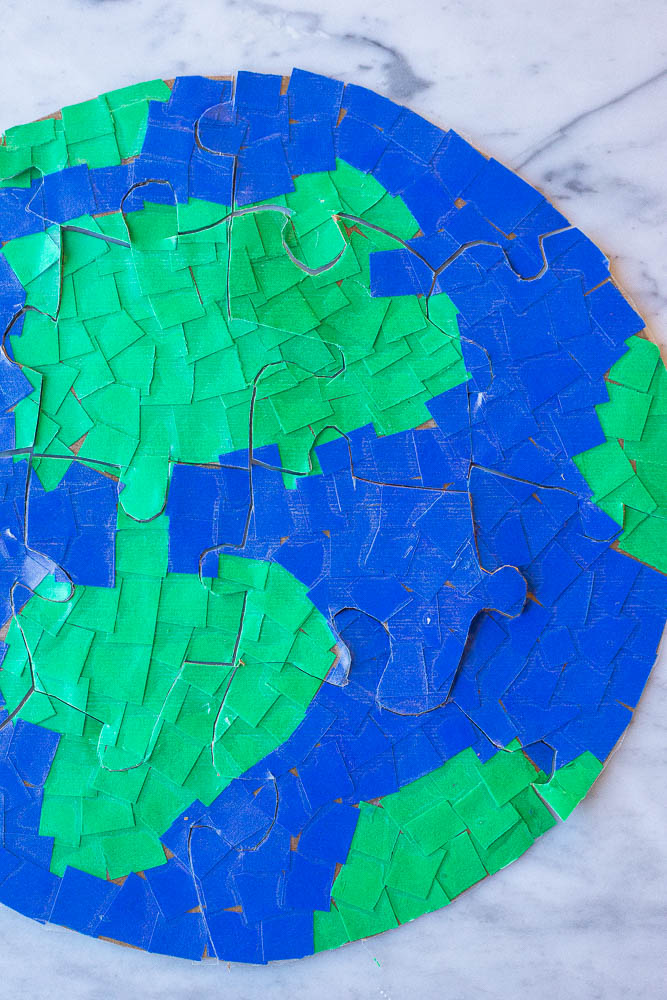 We hope you are all holding up being at home with your kids right now! This Mosaic Earth Puzzle is a fun activity that doesn't require too many tools.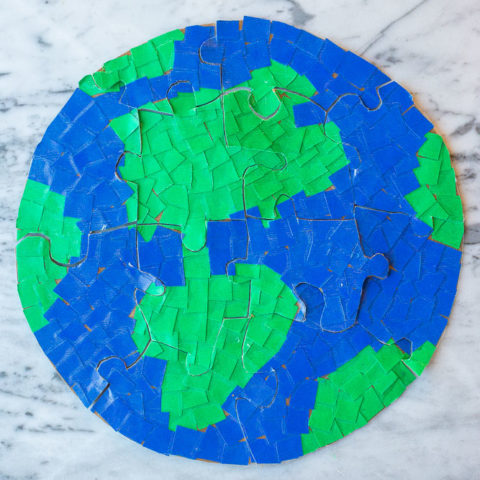 Mosaic Earth Puzzles
These Mosaic Earth Puzzles are a fun and creative way to celebrate Earth Day with your children!
Materials
Thin cardboard
Blue and green construction paper, or colors of choice
Glue stick or Elmers glue
Contact paper
Instructions
Use a large bowl, or freehand, to trace a circle on your thin cardboard. Cut out circle and use a pencil to draw different continents on the earth. You can do just one or two or you can do all of them.
Cut your construction paper into small squares and use your glue stick to stick them on your earth. If desired, place contact paper over the top and press down well. This will help your earth puzzle last longer.
Turn your earth over and draw puzzle pieces on the back of it. Cut out the puzzle pieces and have fun putting them back together!