These Mini Pizza Bagels are easy to make and great because everyone can choose their own toppings! They're also freezer friendly so you can always have them on hand for snacks or an easy dinner!
Do you all remember eating bagel bites as a kid? My mom didn't buy them for us that often but when she did we would eat so many. I'm not sure if it was because they were good or just because miniature food is fun to eat 🙂 Today I'm sharing my own recipe for Mini Pizza Bagels (aka bagel bites) plus some kid friendly topping ideas!
We do make regular sized bagel pizzas around here but I find that the mini bagels make them really easy for kids to eat so I prefer to use them. They're also nice because you can eat a few different flavored bagels without getting too full.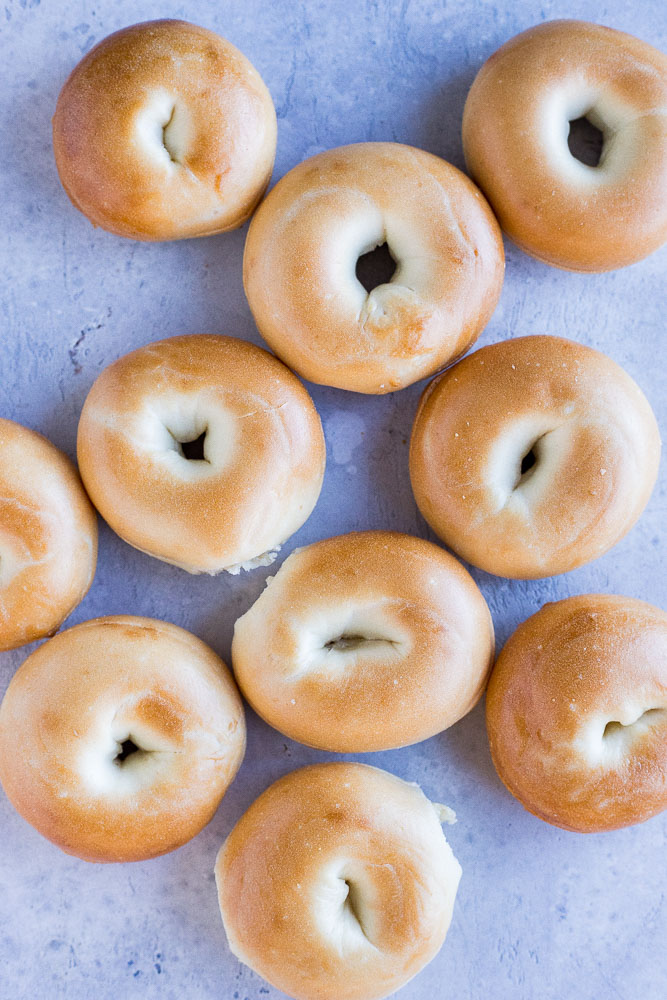 What You'll Need For This Mini Pizza Bagel Recipe
Bagels – You should be able to find mini bagels at any regular grocery store. I found these at Walmart. If you can't find mini bagels you can just use regular sized bagels or even English muffins. I just use plain flavored bagels.
Marinara Sauce – I bought an organic, no sugar added jar of marinara sauce for mine. I've been planning to create a marinara sauce that's loaded with veggies but also kid friendly that I hope to share with you soon!
Cheese – I just used grated mozzarella cheese on these but you could use any kind of cheese you like. You could also use vegan cheese.
Toppings – You can go as plain as you want or as crazy as you want with the toppings! I have more on topping ideas at the end of the post!
How To Make Mini Pizza Bagels
Start by spreading each bagel half with some marinara sauce. I used about 2 teaspoons for each half. You don't want to use too much or they risk getting soggy.
Next, add the cheese. Again, I used about 2 teaspoons of cheese for each half but you can use however much you like!
Add the toppings! When making these pizza bagels for the kids I try not to load them with too many toppings because I find they're easier to eat with less.
Bake the pizza bagels at 400 degrees until bagels are just starting to get crispy and cheese is melted. Let them cool for a few minutes before serving them to the kids 🙂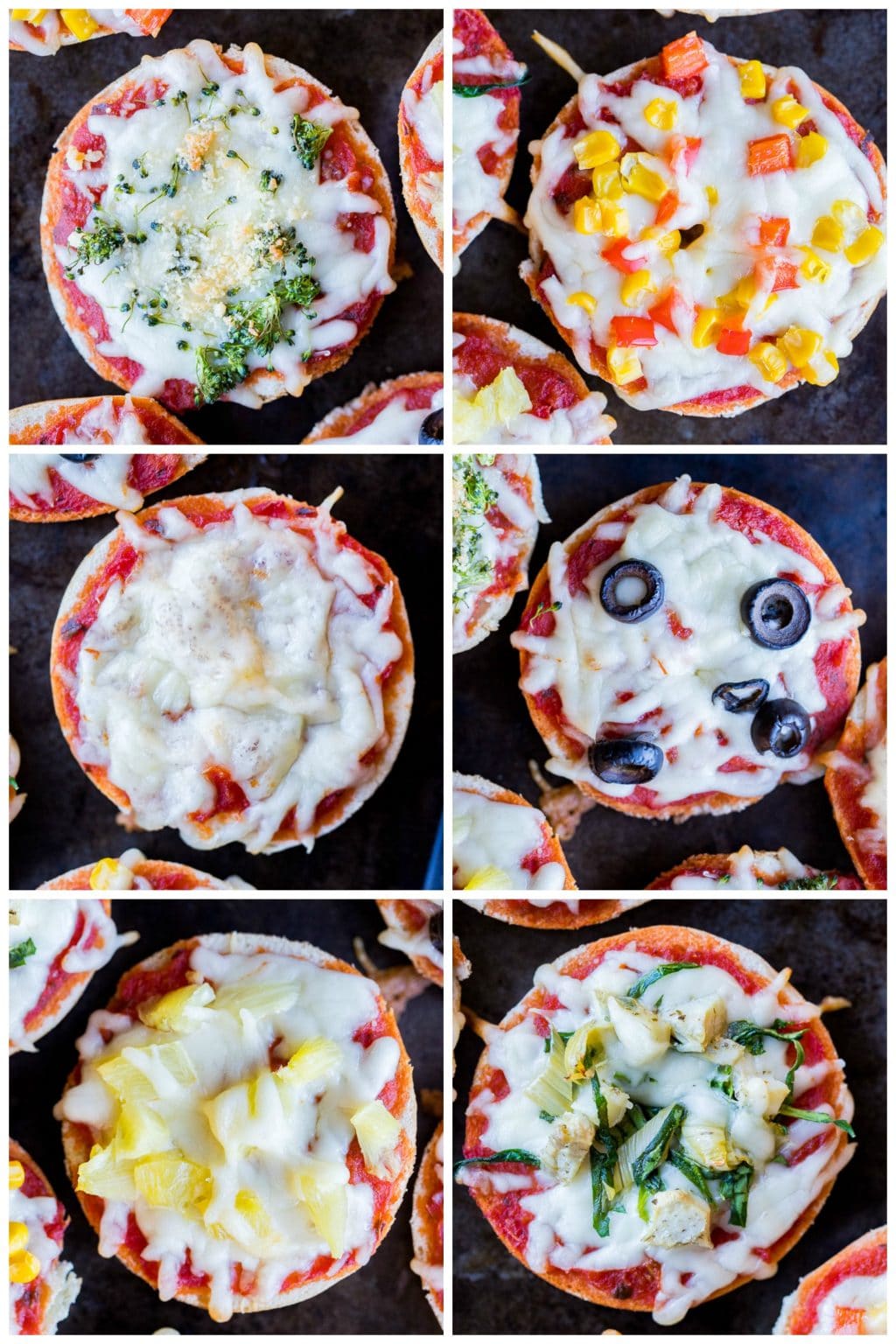 Kid Friendly Pizza Topping Ideas
Obviously all kids aren't going to like all these toppings (haha) but hopefully I can give you some ideas for a few exciting toppings that your kids will enjoy!
Cheese – Not exciting but usually a safe bet when making pizza for kids. You could also mix it up a little and use different kind of cheeses, feta, goat cheese, parmesan, gouda, etc…
Broccoli – I know some kids absolutely hate broccoli, but mine love it so far. I just diced up some raw broccoli and threw it on with some parmesan cheese.
Pineapple – Pineapple may sounds strange as a pizza topping to kids but it's sweet and they usually love sweet things so you might be surprised!
Spinach Artichoke – I cut the spinach really thinly and use marinated artichokes.
Black Olives – They add a nice salty flavor.
Red Pepper and Corn – Not a traditional pizza topping combo but my son loves corn and red peppers are pretty mild so I like to throw them on as well.
Pepperoni – If not doing vegetarian, pepperoni is usually a hit with little kids. You could also use turkey pepperoni.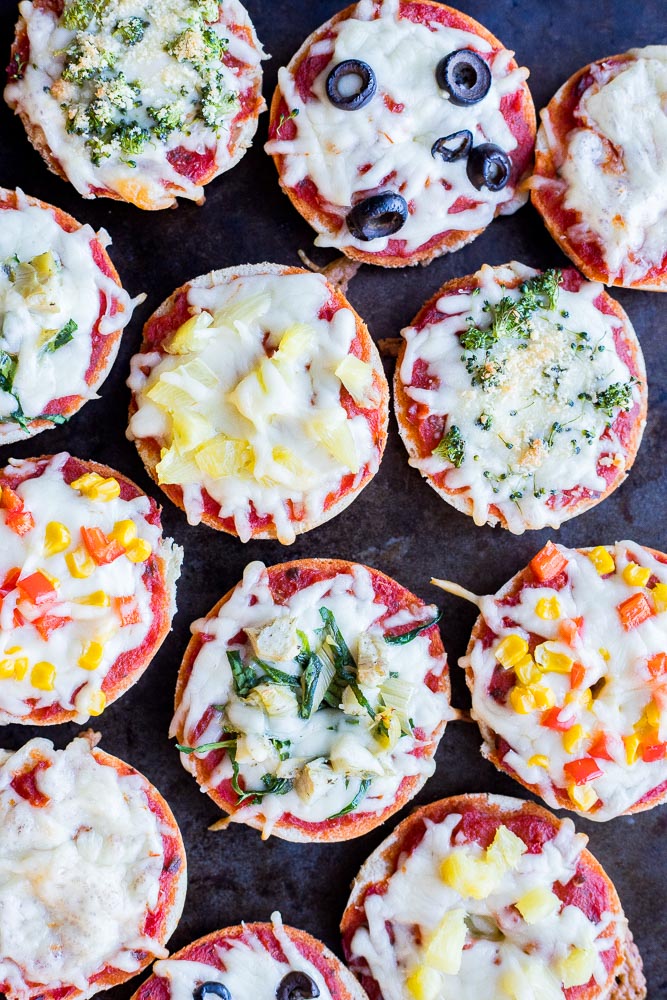 I hope you enjoy these Mini Pizza Bagels as much as my family and I do! They're easy to make and you can freeze them so you always have them on hand for easy snacks and dinners!
What are your kids favorite pizza toppings?
Mini Pizza Bagels
These Mini Pizza Bagels are easy to make and great for little kids to snack on!
Ingredients
Mini Bagels
Marinara sauce
Shredded mozzarella cheese
Your favorite pizza toppings
Instructions
Pre-heat oven to 400 degrees F. Cut bagels in half and top each one with about 2 teaspoons marinara sauce.
Next top with a sprinkle of cheese and then add on your favorite pizza toppings. Bake until just starting to crisp and cheese is melted, 15-20 minutes. Let cool for a few minutes before serving.
Notes
Freezer directions: assemble pizza bagels but instead of baking them, place them on a baking sheet and freeze until frozen. Then add them to an airtight, freezer friendly container and freeze up to 3 months. Bake from frozen at 400 degrees F for 30-35 minutes, or until cooked through.