This Hidden Veggie Pesto Pasta with Crispy Chickpeas is made with one part basil and four parts spinach! It's packed with so many nutrients but tastes just like regular pesto! It's perfect for kids and adults.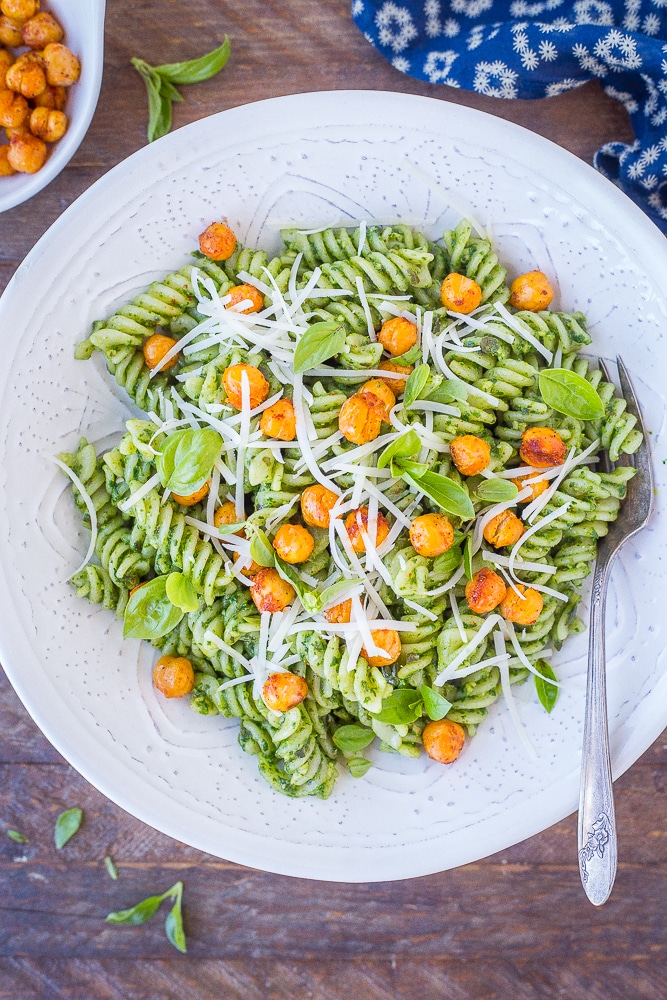 Happy September! Over on She Likes Food I'm sharing a pumpkin recipe this week so I figured I would balance it out and share a summer recipe here! Have you ever made your own pesto before? I usually find store-bought pesto recipes really oily, so I always make my own. I rarely have a big abundance of basil on hand so a few years ago I started using one cup of basil and 4 cups of spinach, or kale, and it makes for the perfect Hidden Veggie Pesto Pasta Recipe!
When my three year old was just beginning to eat solids I used to make this Pesto Pasta Recipe all the time for him. It's great because it tastes just like a basil pesto recipe but you're also getting all the nutrients from the spinach!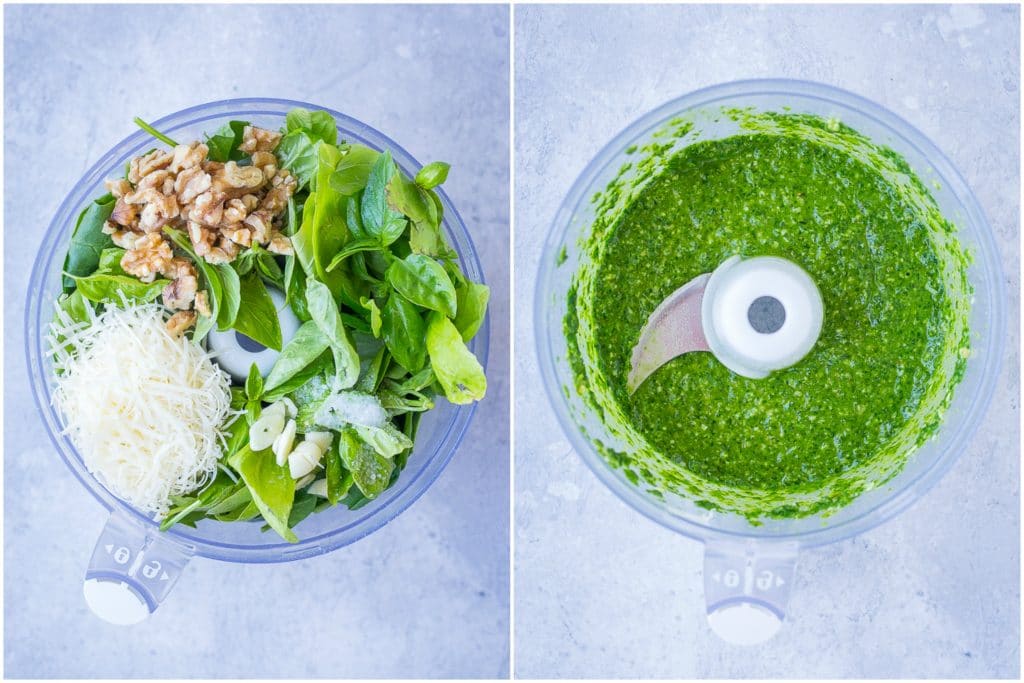 How To Make Pesto Pasta
Pesto is so easy to make! You really just combine all the ingredients into your food processor, or blender, and blend until it turns into a creamy sauce. Here are a few tips I have:
You can use any kind of nut you like. Pine nuts are classic in pesto recipes but they can be a little pricey so I usually just use whatever I have on hand. If you want to take an extra minute and toast your nuts it will add some great flavor!
Making Vegan Pesto Pasta: I used parmesan cheese in this recipe but I usually make a vegan pesto recipe that uses a 2-3 tablespoons nutritional yeast in place of parmesan cheese. It tastes so good!
One thing I love about making my own pesto is that you can add however much, or little, of the ingredients as you like. You can add the salt, garlic and lemon juice to taste. If I'm making it just for myself I go heavy on the garlic and lemon juice but if I'm doing it for the whole family I'm a little more conservative with them.
What kind of pasta should I use? You can really use any kind of pasta you like for pesto pasta, but I like to use one with a lot of grooves so the pesto really sticks to the pasta.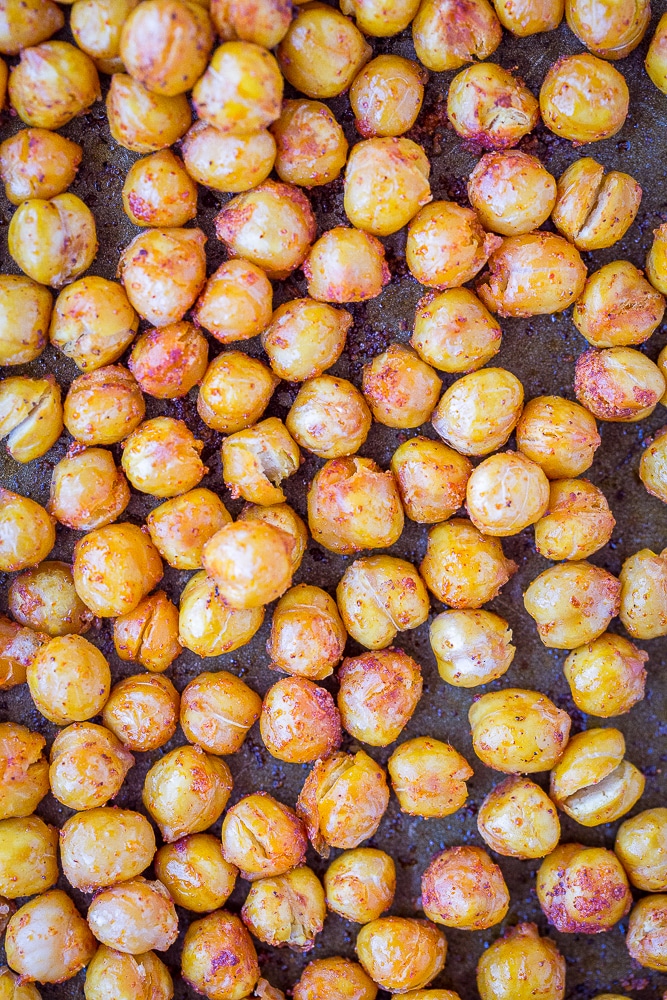 I chose to add seasoned crispy chickpeas to this pesto pasta recipe because they add some nice protein, they're quick and easy to make and they're a nice vegetarian substitute for something like chicken. My three year old also really loves chickpeas so they make him even more excited about this meal. Cooking for toddlers can be really hit or miss but I'm happy to say that when I fed him this one he said, "Yummy pesto pasta!" 🙂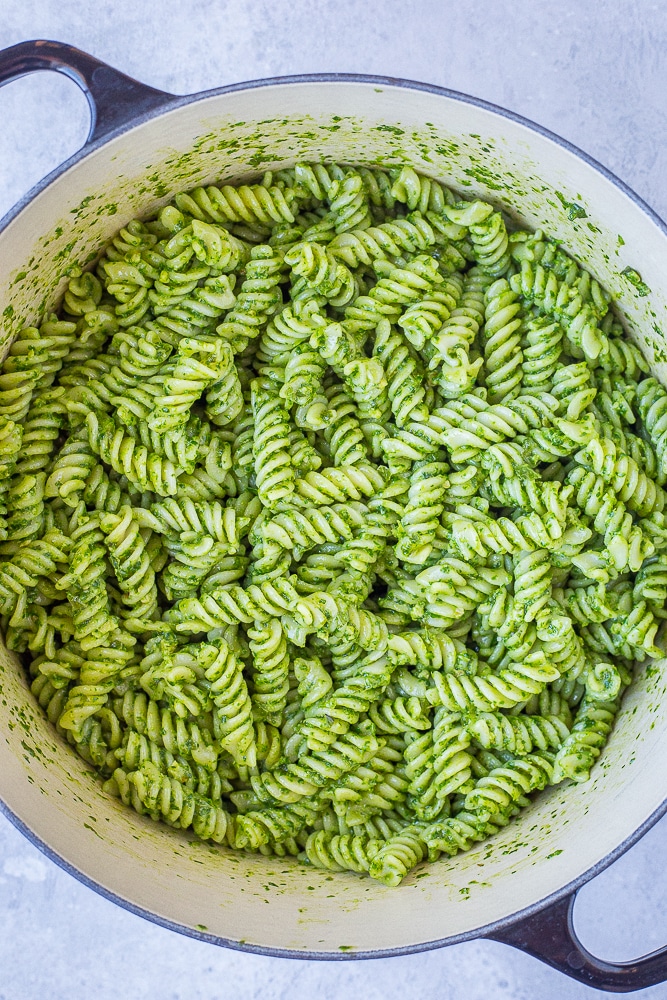 Why Parents Will Love This Pesto Pasta Sauce
It's loaded with spinach and your kids probably won't even notice! Basil has such a strong flavor that adding just one cup of basil will flavor the entire batch. Spinach is very mildly flavored so it easily takes on the flavor of the basil.
It's easy to make! Even with making your own pesto sauce and chickpeas, this meal comes together in just about 30 minutes. You can also make a big batch of this pesto pasta sauce and have it on hand for an even easier weeknight dinner.
Leftovers are great to enjoy for lunch the next day. You can re-heat leftovers or enjoy them cold, like you would pasta salad.
It's really filling! You have a nice mix of carbs, protein and veggies and it will keep your kids feeling full for a few hours.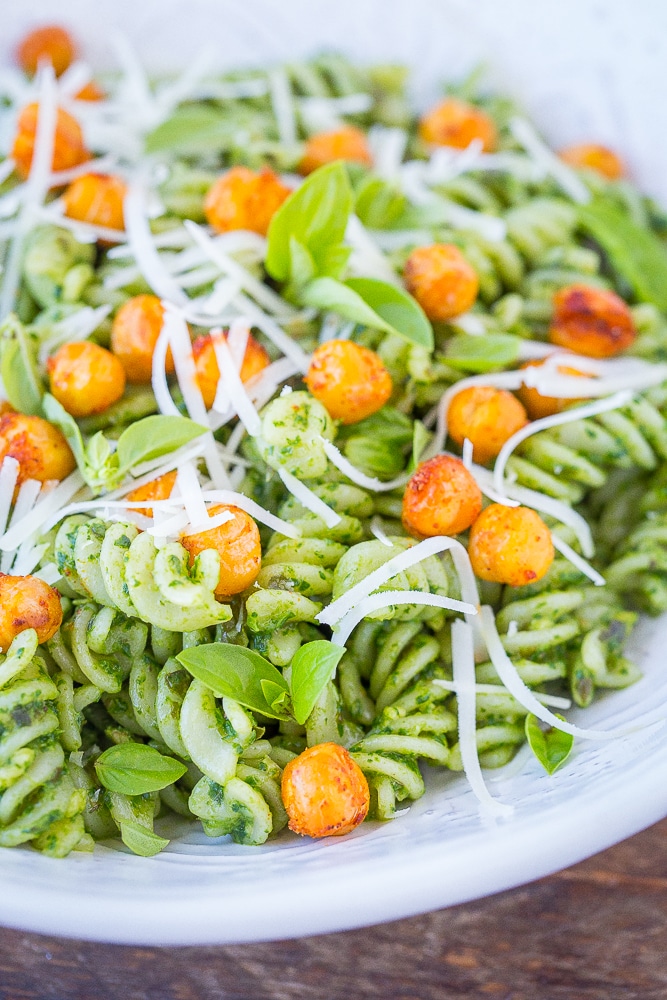 Health Benefits of Spinach
Spinach is an excellent source of Vitamin K, A, C and folate. Vitamin K is important for maintaining bone health
It is also a great source of manganese, magnesium, iron and vitamin B12.
The dark green of the spinach leaves contain high levels of chlorophyll. This gives it anti-inflammatory, anti-cancerous properties and is great for maintaining good eye health.
Spinach is high in insoluble fiber with may help prevent constipation.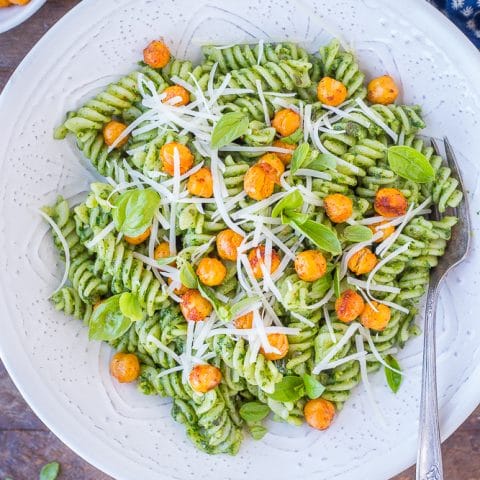 Hidden Veggie Pesto Pasta
This Hidden Veggie Pesto Pasta is packed with spinach but tastes just like basil pesto! It's great for kids and adults.
Ingredients
1 pound pasta, your favorite kind
1 (15 oz) can chickpeas, drained and rinsed
1 teaspoon olive oil
1/2 teaspoon garlic powder
1/2 teaspoon paprika
1/4 teaspoon salt
Pesto Sauce
4 cups baby spinach leaves
1 cup fresh basil leaves
1/3 cup freshly grated parmesan cheese, or 2 tablespoons nutritional yeast if making vegan
1/4 cup walnuts, or nut of choice
1 clove garlic, chopped
Juice of 1/2 lemon
1/4 cup olive oil
Salt, to taste
Instructions
Heat oven to 400 degrees F. On a medium sized baking sheet, toss together the chickpeas, 1 teaspoon olive oil and seasonings. Bake until chickpeas are crispy, about 15 minutes.
Bring a large pot of water to a boil and cook pasta according to package directions. Drain and add back into the pot.
Make the pesto sauce while the pasta is cooking. Add all pesto ingredients, except for the oil, into the food processor and turn on. Slowly drizzle the oil in while the food processor is running and blend until smooth.
Pour the pesto sauce over the pasta and mix until combined. Top each individual portion with chickpeas and extra parmesan cheese, if desired.
Nutrition Information
Yield

6
Serving Size

1/6 of pasta
Amount Per Serving
Calories

481
Total Fat

24g
Saturated Fat

4g
Trans Fat

0g
Unsaturated Fat

18g
Cholesterol

7mg
Sodium

662mg
Carbohydrates

51g
Fiber

10g
Sugar

9g
Protein

18g
Nutrition information will differ depending on the brand of products used.