This Building Bug Homes activity is easy, free and fun! Building a bug home gets your kids outside and can be done anywhere. It's a perfect activity to do any time of year and it can be done over and over again!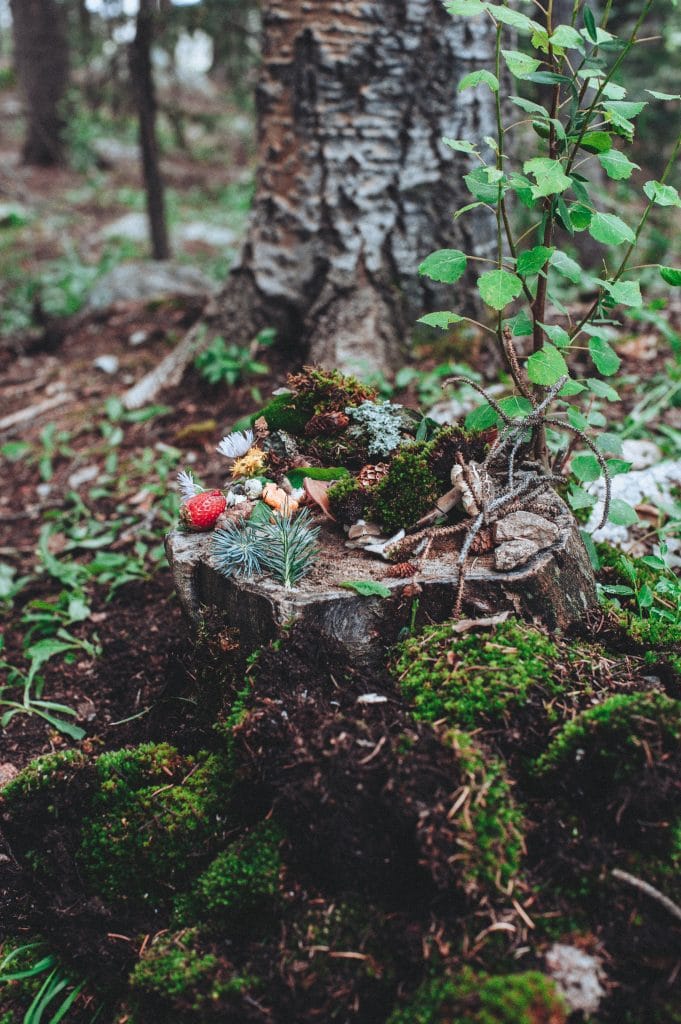 If you're anything like me, you began summer break with visions of a sweet, slow, and easy-going summer with lots of free time for fun and relaxing. Then by mid-summer, you and your kids were totally exhausted from doing too much in a short amount of time. This is exactly what happened to me and my kids! Now that it's back-to-school time and summer is almost over, my kids and I are really feeling the need to unwind and slow down a little. A day outside building bug homes may be just what you and your kids need too!
During our last trip to the mountains before school started, we met a few friends for an end-of-summer camping trip. After setting up the camp, we grownups sat by the stream at our campsite as our children ran off to explore. We watched them as they scoured the forest floor beneath them, stopping here and there, collecting things. Mushrooms, pine cones, leaves, twigs and flowers were among their treasures.
Then we noticed all the children had gathered around a particularly magical looking stump, still moist with the morning's rain, with moss and mushrooms growing on its edges and a sweet new sapling emerging from its base. They began arranging the materials they had collected on the stump they had found. A few sweet looking mushrooms sat in the middle, with moss and leaves to one side, and a few tiny pinecones stacked on another side. Wildflowers and twigs laid on a bed of green grass. We asked what they were making. A bug home, of course!
If you're looking for an activity that brings wonder and magic into your child's day and one that is sure to jump-start their sweet imaginations, I suggest a trip to the forest or a city park or even your own backyard to build a tiny home for the bugs.
BUILDing BUG HOMEs how to:
Pick out a location. Once you're outside in the forest, or at the beach, at your favorite city park, or even in your own backyard, look around for the perfect spot. Your bug home could be built on a stump, like the one my kids made, or perhaps a fallen tree, a boulder, a flowerbed, a sheltered spot near a stream, or in the exposed roots under their favorite tree. Even finding a quiet corner of their favorite playground or sand-box would work!
Gather supplies. Start by grabbing a basket, bag, a bucket or just use your hands to hold the items. Then take a look around yourselves – down at your feet, above you, behind a bush or around a large rock. Collect stones, bark, leaves, moss, pinecones, twigs, acorns, mushrooms, flowers, even a piece of fruit plucked from a nearby tree or taken from your lunchbox.
Get building! Once you've gathered several items, you can help your child build a home for their tiny bug friends. My kids chose to create specific rooms or spaces for their bugs: a kitchen, a bedroom, a bathroom, and so on. Each space was minutely decorated. A bed of leaves with a tiny moss pillow for the bedroom. A strip of bark and a strawberry were used in the kitchen. A tiny pinecone served as the bug's couch and chair. The possibilities are endless! Once your child begins creating, they'll soon be so engrossed in their project, they probably won't even turn to you for inspiration or suggestions, even though you'll be so enchanted with it, that you'll wish they would.
WHY KIDS LOVE building bug homes:
It's fun! Your kids can do this activity on their own or with a group of friends. It's fun because not only are they able to explore and play outside as they gather materials for their bug homes, once they start putting it together, their imaginations take over and they are propelled into another world!
It's simple. This is not a complicated activity and any child at any stage of development or skill level can partake and enjoy it. Their bug home can be as simple or as elaborate as they like.
It's outside. All children love being outside because it's exhilarating and energizing. All the extra sunshine and fresh air make them happier and more content without them even realizing it or understanding why.
WHY PARENTS LOVE THIS BUG HOME ACTIVITY:
It's free. Raising kids can be expensive, right?! So who doesn't love an activity that engages their children and costs absolutely nothing!
It requires no planning and very few materials. How often do you find yourself saying no to various activities because the logistics are just too complicated? Some activities require planning which makes it impossible to do in the moment. This one can be done on the spur of the moment, any time of year, any time of day, and in any outdoor space you like.
Boosts your child creativity. Creative play can help children in so many areas of development: physical, social, cognitive, and emotional.
Uses both fine and gross motor skills. Fine motor skills involve smaller movements which increase coordination to help your child become more self-aware and self-efficient. Gross motor skills use the whole body to make larger movements which help them gain strength and confidence in their bodies. This activity uses both!
Gets your kids outside. When kids play outside regularly, they are happier and healthier. Playing in the sunshine is a way to build up your child's Vitamin D, allows them to get enough exercise, and it exposes them to bacteria and allergens which build stronger immune systems over time. It also contributes to cognitive and social development, increases their attention span, and improves sensory skills.
It brings me so much joy to watch my children' small hands hard at work, creating and building something magical, just using the materials they've collected from the forest floor around them. The imagination of a child is truly something special to watch and experience. I can't wait for you and your child to enjoy this activity as well!
How to Build a Bug Home
Materials
Collect any organic materials that you find around you to add to your bug home. Some ideas might be stones, bark, leaves, moss, pinecones, twigs, acorns, mushrooms, flowers, dirt, gravel, grass, and so on.
Tools
A basket or bucket or bag may be helpful in carrying the materials you collect. Otherwise, you just need your hands and your imaginations to build!
Instructions
First, pick out an outdoor location to build your bug home. A stump, a fallen tree, a boulder, a flowerbed, a sheltered spot near a stream, or in the exposed roots under their favorite tree would work well. Even finding a quiet corner of their favorite playground or sand-box would work!

Second, using a basket, gather some organic materials to use when building your bug home. Items like stones, bark, leaves, moss, pinecones, twigs, acorns, mushrooms, and flowers might work well.

Finally, build! Once you've found a spot and gathered materials, start arranging the items you collected on the bug home spot. You could create individual rooms for the bugs (a kitchen, a bedroom, a bathroom, and so on) or just start placing things in the center and arrange more materials around it. The possibilities are endless!