These Healthier Chocolate Chip Cookies are made with white whole wheat flour, coconut oil and coconut sugar. They're perfect for a sweet afternoon treat or dessert! Kids and adults love them!!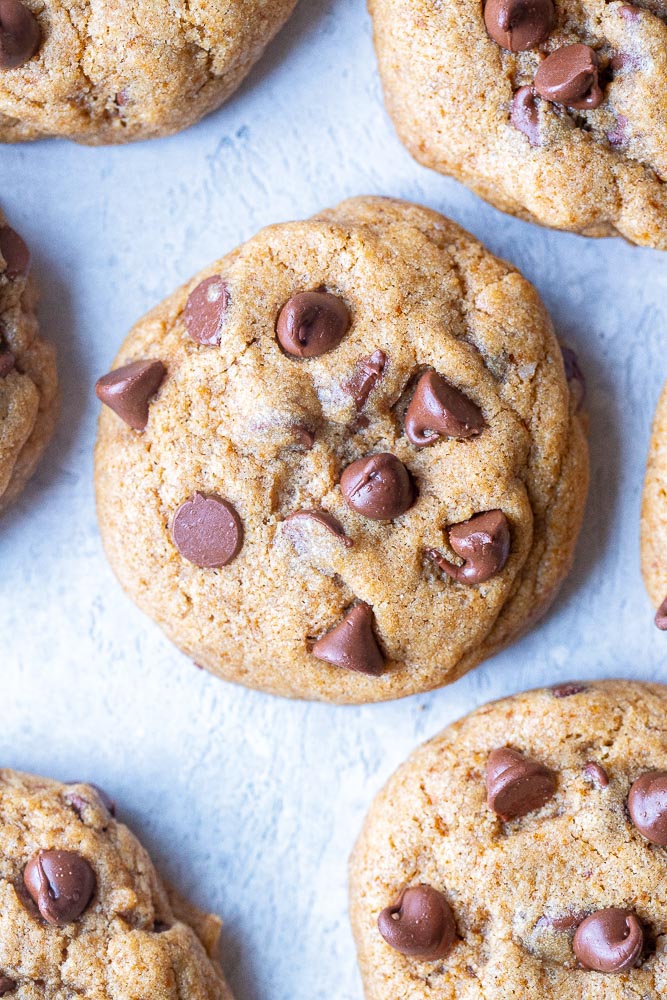 Introducing the best healthier chocolate chip cookies! I'm not going to claim that these are healthy because let's face it, they're cookies and they do have sugar in them. But, they're made with a few healthier ingredients (in my opinion) and I don't feel quite as guilty feeding them to my children.
Another great things about these Healthier Chocolate Chip Cookies? There is no chilling of the dough required!! I tested them with chilled dough and with un-chilled dough and I actually liked the un-chilled dough cookies even better than the other ones. This is perfect for kids because we all know how impatient they can be 🙂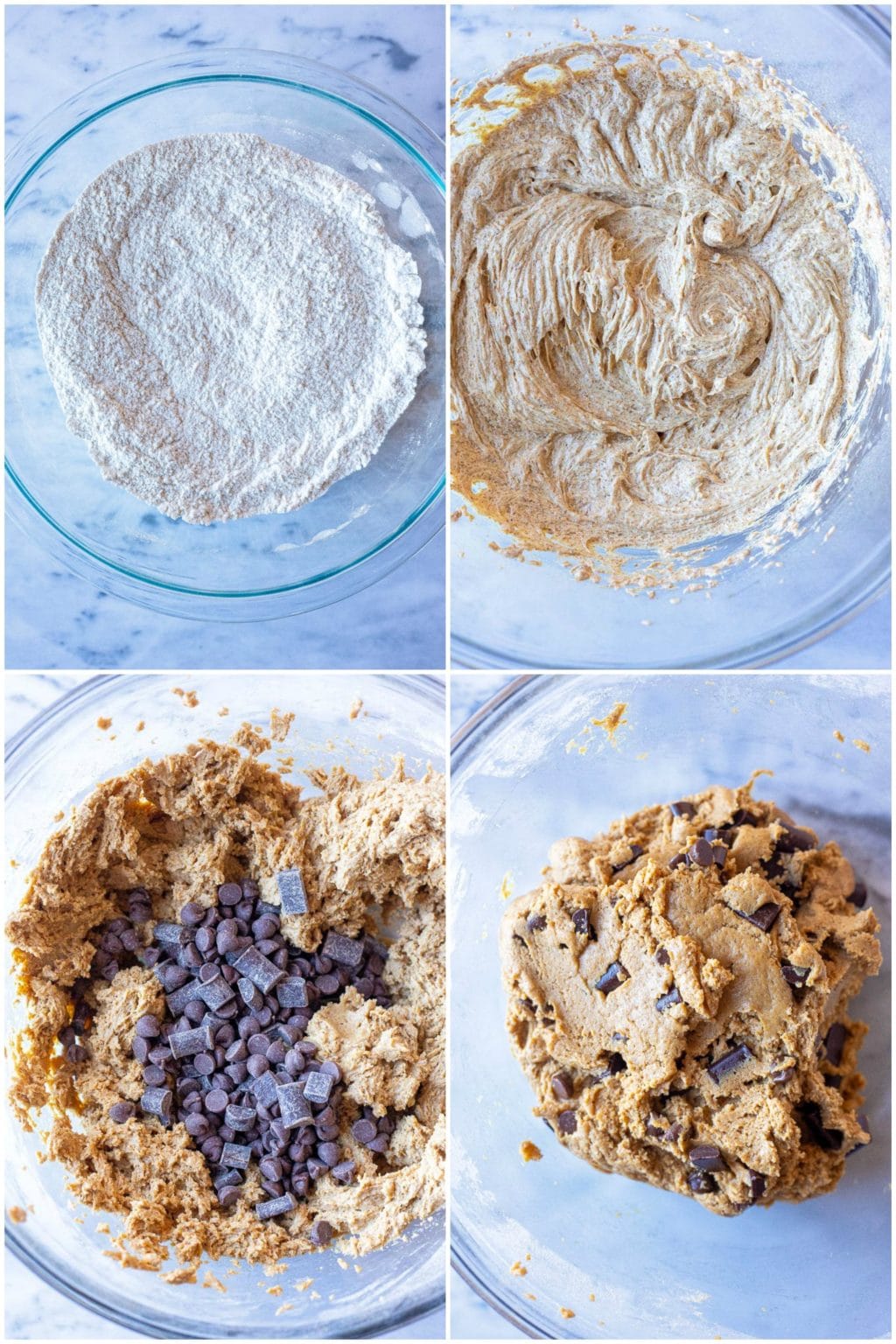 What You'll Need For These Healthier Chocolate Chip Cookies
Flour – I used white whole wheat flour for these and thought the taste and texture was really nice. I did test out a few batches using a mixture of whole wheat flour and bread flour but I liked the texture better when I just used white whole wheat flour. The bread flour is supposed to make them extra chewy but I found it gave them a cake like texture.
Coconut Oil – The coconut oil is in substitution of butter in a chocolate chip cookie recipe. It needs to be soft but not melted. I like to bake with refined coconut oil because it doesn't give your cookies a coconut flavor.
Sugar – I use a combination of organic coconut sugar and organic cane sugar. I know that sugar is sugar and coconut sugar isn't necessarily healthier than white, granulated sugar, but I do feel better about using it!
Eggs – I use one whole egg and one egg yolk for this recipe. The extra egg yolk helps with the chewy texture. These can be made vegan if you like. Just substitute the eggs for one flax egg.
Chocolate Chips – You can use whatever kind of chocolate chips you like. I used semi-sweet morsels for this particular batch but I've also made them with dark chocolate chunks.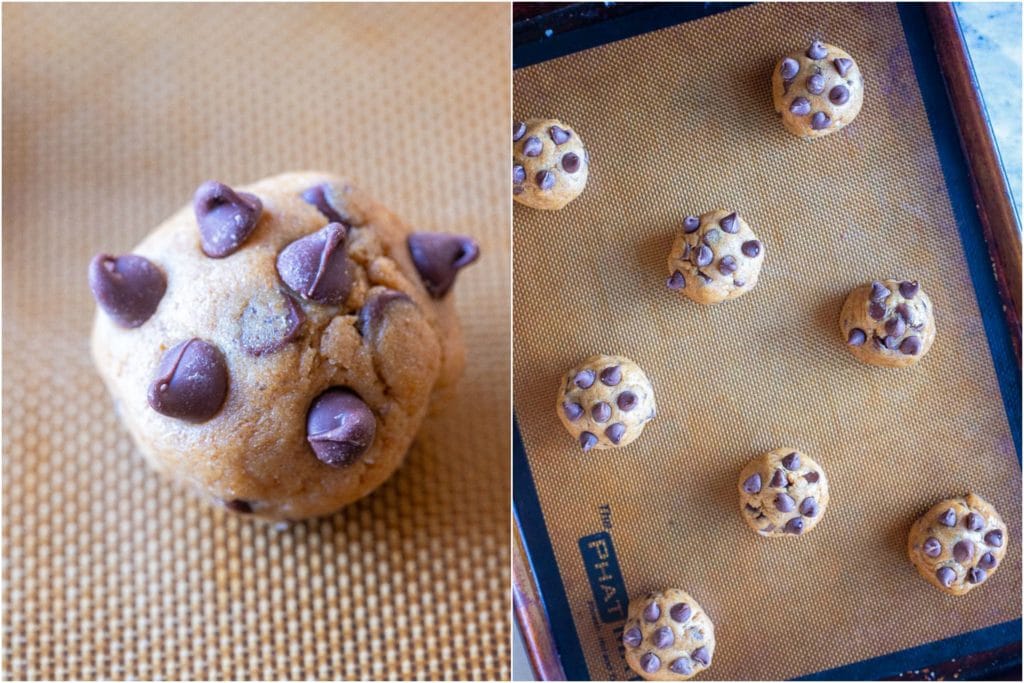 What Makes These Healthy Chocolate Chip Cookies?
As I said above, I think of these more as healthier chocolate chip cookies than healthy chocolate chip cookies. I wouldn't say that they are necessarily good for you, like a big bowl of broccoli is, but compared to your regular chocolate chip cookies recipe, they're made with some healthier ingredients.
White Whole Wheat Flour – Whole wheat flour is much more nutritious than bleached white flour. I like to balance of the white whole wheat but I've made them with 100% whole wheat and they're still enjoyable.
Coconut Oil – Coconut oil is a heart healthy substitute for butter. I use it in all my baking recipes these days.
Coconut Sugar – Coconut sugar is unrefined sugar and I've read a lot of conflicting reports on it lately. I believe that it is slightly healthier than white, granulated sugar, but not healthier than no sugar at all. I tried to keep the amount on the lower side.
Tips For This Chocolate Chip Cookie Recipe
Dough does not need to be chilled! However, if you want to make the dough ahead of time it can absolutely be chilled. I would just let it sit out for a few minutes before handling so you can easily roll it into balls.
As with most chocolate chip cookie recipes, you want to bake the cookies until they look like they're about 2 minutes from actually being done. They will still continue to cook once removed from the oven but this is how you can ensure that they're extra soft and chewy on the inside.
I like to add extra chocolate chips to the top of the cookies just before you put them in the oven. This ensures that there's lots of chocolate chips!
You can make these cookies as large or as small as you like. I use a 1 tablespoon scoop and do a very generous scoop. I like my cookies on the larger side!
If you like, you can add a pinch of flaky sea salt to the top, it's so good!
You can easily add nuts or other goodies to this recipe. I'd suggest using about 1/2 cup of nuts.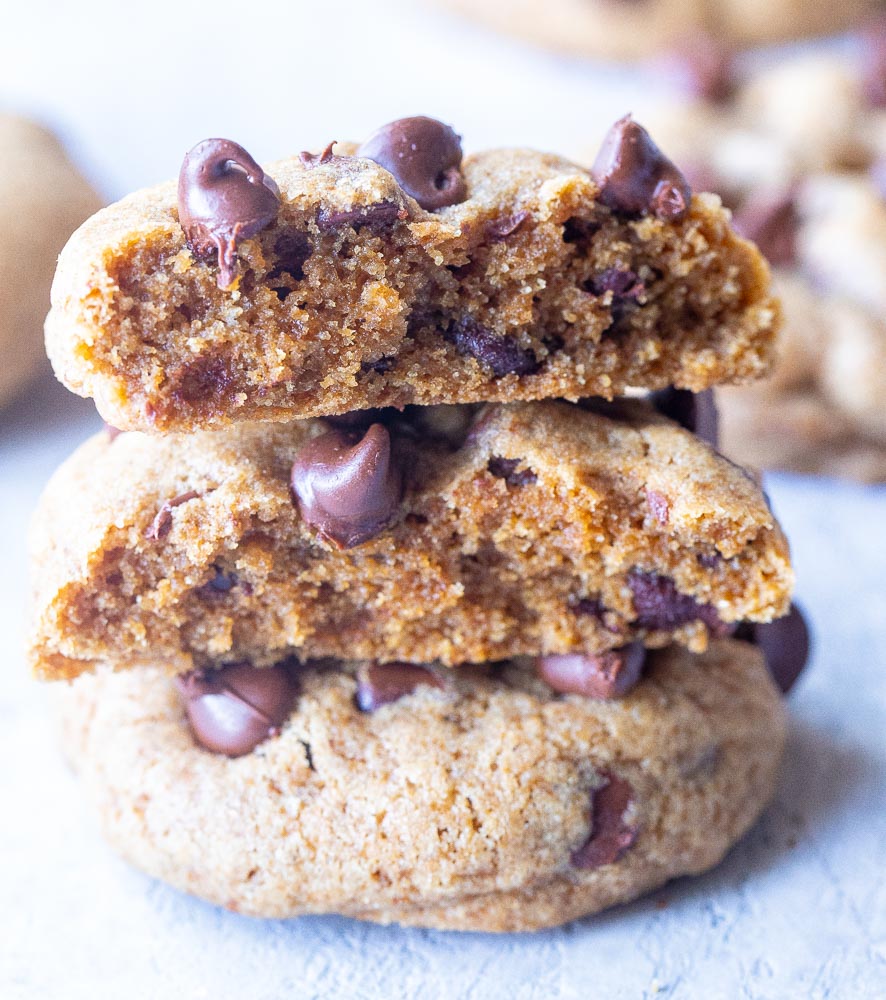 How To Store Your Chocolate Chip Cookies
I learned this trick years ago and it is the only way I store my cookies now! You want to store them in an airtight container with a few pieces of bread. It sounds strange, but the bread helps the cookies stay super soft while it dries out. I'd suggest storing at room temperature for 3-4 days.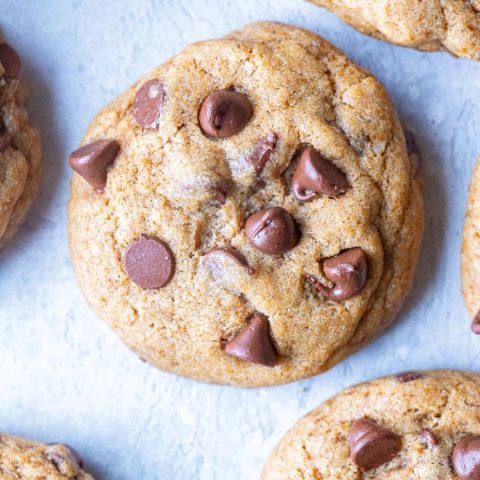 BEST Healthier Chocolate Chip Cookies
These Healthier Chocolate Chip Cookies are soft, tender and so delicous!
Ingredients
1 3/4 cups white whole wheat flour, or all whole wheat flour
3/4 teaspoons baking soda
1/2 teaspoon kosher sea salt
3/4 cup softened coconut oil, use refined if you don't want coconut flavor
1/2 cup coconut sugar
3 tablespoons cane sugar
1 teaspoon vanilla
1 whole egg
1 egg yolk
3 tablespoons plain, unsweetened almond milk
1 cup chocolate chips, plus more for topping if desired
Instructions
Pre-heat oven to 350 degrees F. Line a large baking sheet with a non-stick mat or parchment paper.
To a medium sized bowl add the flour, baking soda and salt. Wisk together and set aside.
To a large bowl add the coconut oil and sugars. Beat together with an electric mixture for about 1 minute. Next, add the vanilla and eggs and beat again.
Add the dry mixture to the wet mixture and beat together. Add the almond milk and beat again until a ball forms. Use a wooden spoon to mix in the chocoalte chips.
Place heaping rounded tablespoons of cookie dough on the cookie sheet, I like to give them a little room in between each one. Then, if desired, top with a few more chocoalte chips.
Bake cookies until the edges are just starting to brown but the center still looks a little gooey. Let cookies cool on the cookie sheet for 3-4 minutes and then transfer to a wire rack. Repeat with remaining cookie dough.
Nutrition Information
Yield

15
Serving Size

1
Amount Per Serving
Calories

265
Total Fat

13g
Saturated Fat

10g
Trans Fat

0g
Unsaturated Fat

3g
Cholesterol

25mg
Sodium

157mg
Carbohydrates

35g
Fiber

4g
Sugar

17g
Protein

4g
Nutrition information will differ depending on the brand of products used.