I love nature and earth crafts are some of my favorite ways to celebrate earth day on April 22nd. This craft is a great way to celebrate earth and talk about taking care of our planet. I like to pair this earth day art project with a nature walk where we collect all our materials and enjoy being in nature. I also like to use eco-friendly materials when possible, here I use cardboard, real sand, stones, twigs, biodegradable tape and tissue paper which are completely compostable!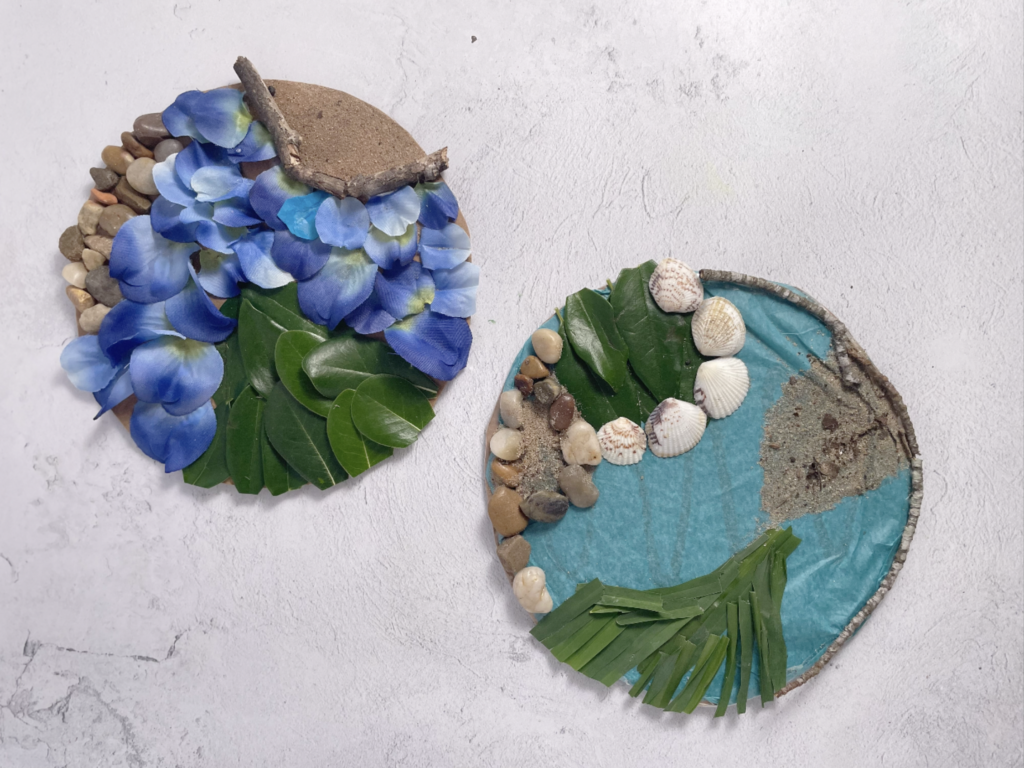 *This post may contain affiliate links to products that I use on a regular basis for my crafts. It does not change the price for you but I may earn a small commission if you buy through my links. This practice helps support the work I do here on this page!
There are tons of earth day activities out there but this one includes natural material and promotes fine motor skills for younger kids. Its a fun way to combine some outdoor time with a craft that is perfect for kids of all ages.
The best part of this earth day activity is that it is 100% customizable to whatever you find on your walk!
What you'll need for this nature earth craft.
Cardboard – Any kind of cardboard will work. I like to use cardboard because it's sturdy but if you don't have any cardboard, card stock or even regular white paper would work too. You would just need to make sure you didn't glue anything too heavy onto it.
Glue- I prefer tacky glue, it doesn't dry up to quickly, my girls can use it and it dries clear. You can also use hot glue or elmers glue would work too, it would just take a little longer to dry and might be a little harder to secure some of you items.
Nature Items – All you need to do for these is take a little walk around your yard, or neighborhood, and pick things that you think would look pretty on your Planet Earth! A few suggestions of things we used: leaves, flowers, sand, branches, sticks, rocks, seeds and grass. You can get really creative and use whatever you find. I like to use things that I can add to my compost pile later! I also did use some artificial flowers because I didn't have access to blue flowers just yet!
How to make Nature Earth Art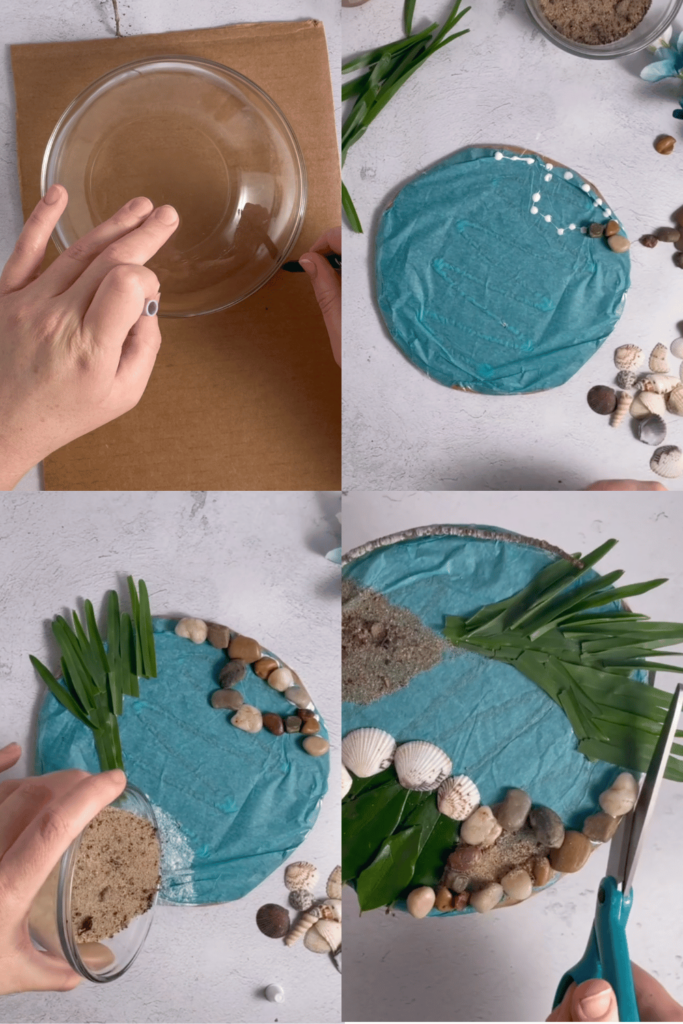 This is an easy craft that you can totally use recycled materials to help create. There's only a few steps you'll need to follow but really, this is a great opportunity to get super creative and celebrate our beautiful planet!
Cut out your circle shapes from the cardboard. I used a bowl from my kitchen to help me with size but you can also just draw them freehand if you don't have something to trace. You then carefully cut them out. Sharp scissors are nice when cutting cardboard, if you have them. You can also use card stock, a paper plate or a cereal boxes as your base. I recommend something sturdier than just paper especially if you're adding rocks, shells or other heavy items.
Go out and collect your nature items! We just went in our backyard because we have lots of plants and rock to choose from, but you could also make it into a fun activity where you go for a little walk around the neighborhood and collect your items. You could even build in a little scavenger hunt where you search for specific items, shapes or materials.
Get your glue out and start creating! I had patterns in mind before I started but as I added things ended up changing my design. For little kids you can help them create the design or let them go wild with it.
What are some other items you could include in your nature earth art?
You could make it more focused on recycled goods (dig into that recycling bin) and use old magazines, egg cartons (think mountains), bottle caps, paper scraps (water or grass), or coffee filters (more water!). You could do just a flower one and leave one, a sand only one where you color your sand, or even get super creative and make a salt dough one! There are some many creative ideas to take this earth art in a different direction.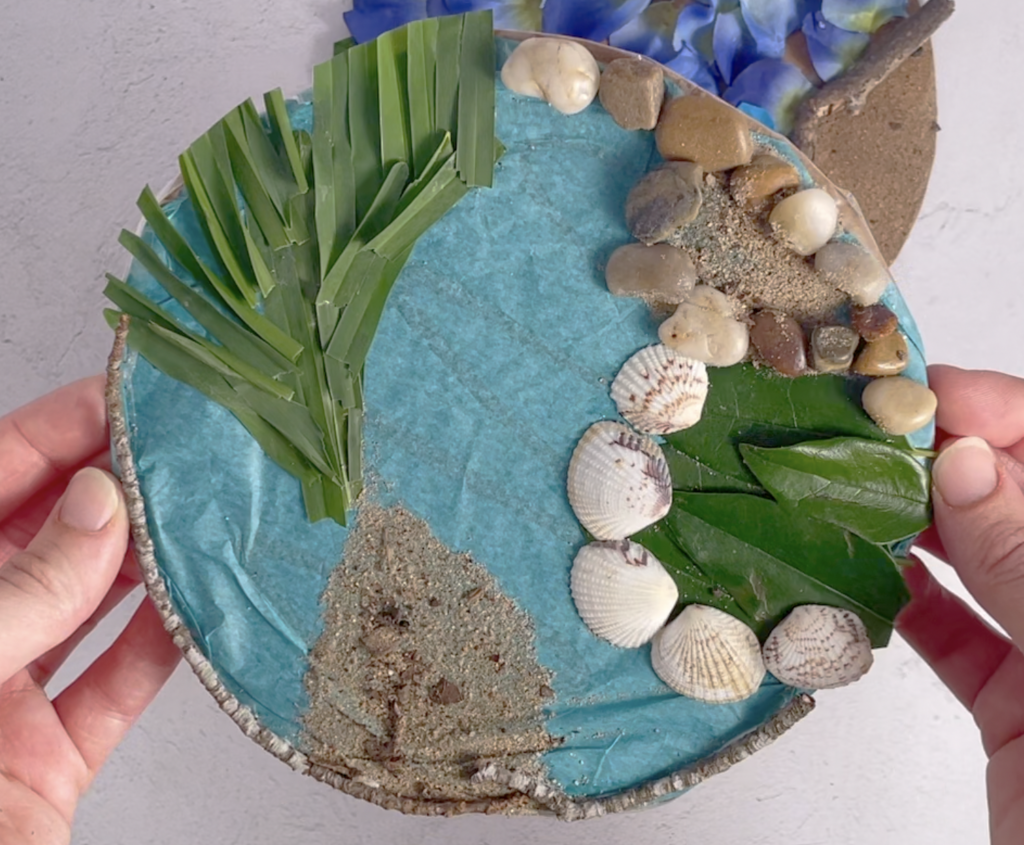 Happy Earth Day! It's such a great time of year to get outside in nature with children of all ages to celebrate to have so much fun celebrating the earth! Tag me in all your beautiful creations and fun earth day crafts!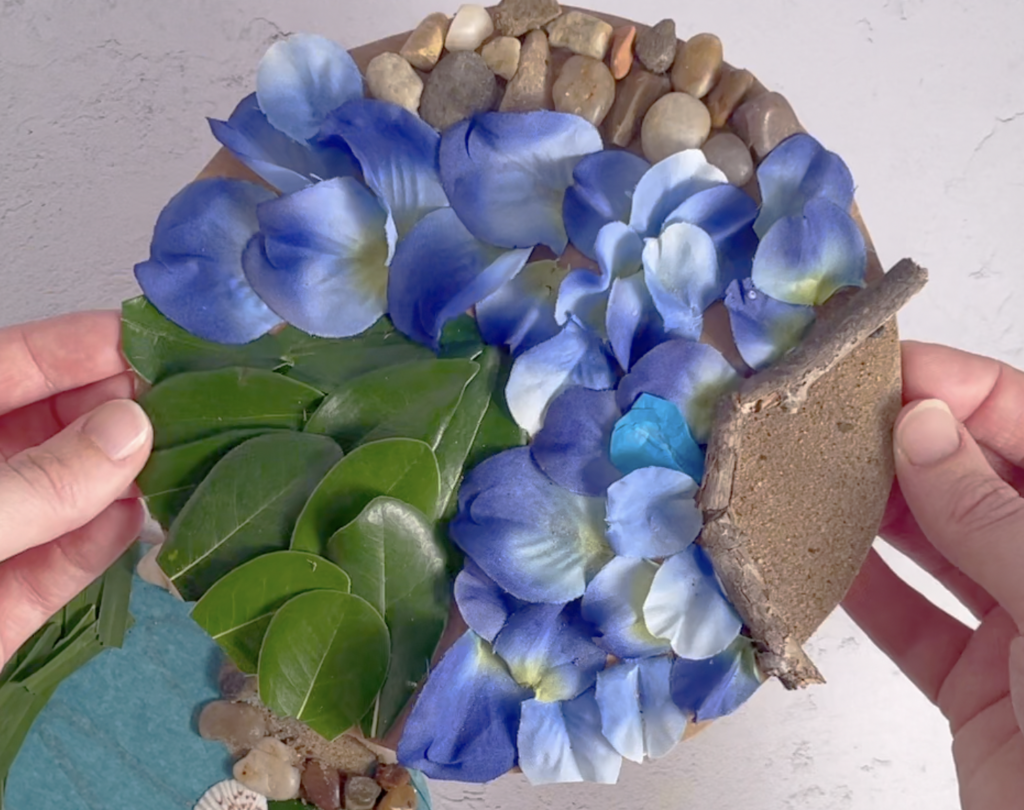 If you are looking for some more of my favorite earth day crafts be sure to check out my earth day sun catchers made from recycled plastic. You can also check out my mosaic earth tile craft that you can add to you easy earth day crafts bank for a quick craft this year or next year!