This Vegan Butternut Squash Mac and Cheese is cozy, healthy and delicious! It's easy to make and so creamy even though there's no dairy in it!
This Butternut Squash Mac and Cheese combines two of my favorite comfort foods: pasta and butternut squash! Butternut squash isn't only the color of (orange) cheese, it also makes a super creamy sauce once it's cooked and blended. I add in a bunch of yummy spices and my kids gobble it right up!
This butternut squash Mac and cheese is also great because you can make a bunch, freeze it and then have healthy Mac and cheese on hand at all times!
What You'll Need For This Butternut Squash Mac And Cheese Recipe
Pasta – You can use any type of pasta you like; whole wheat, gluten free or regular. You could even use spaghetti noodles and make it into a cheesy spaghetti bake if you like.
Butternut Squash – I usually buy one medium sized butternut squash when making this recipe. The sizes of butternut squash can vary so much so you may end up with a little bit extra if you get a really big one. They also do sell pre-cubed butternut squash in the produce aisle if you don't want to peel and cut your own. Or, you can buy the cubed frozen butternut squash in the freezer aisle.
Plant Based Milk – I usually have almond milk or oat milk around but you can use any kind of plant based milk you like. Just make sure it's plain and unsweetened.
Nutritional Yeast – There are quite a few spices in this recipe but the nutritional yeast is the most important. It's what gives the butternut squash Mac and cheese its' cheesy flavor without adding any dairy. You should be able to find it in the spice section of your grocery store or the bulk section at a natural foods store.
How To Make Vegan Butternut Squash Mac And Cheese
This recipe is really easy to make and there are only a few steps:
You start by boiling the cubed butternut squash until fork tender. I have a similar recipe on my other site where I roast the butternut squash with olive oil, salt, pepper and garlic before I puree it. Roasted squash always has tons of flavor so you could roast yours instead of boil if you like.
You then add the butternut squash to a high powered blender along with almond milk, nutritional yeast and spices and blend until it's silky smooth.
Cook your noodles according to package directions, drain and then pour on cheesy butternut squash sauce and mix together. If you wanted, you could put it in a pan and bake it in the oven but I just love how easy stovetop Mac and cheese is!
Optional: Melt some (dairy free) butter and then add in some breadcrumbs and mix together until bread crumbs are nice and toasty. Then sprinkle a tablespoon or two on top of your Mac and cheese!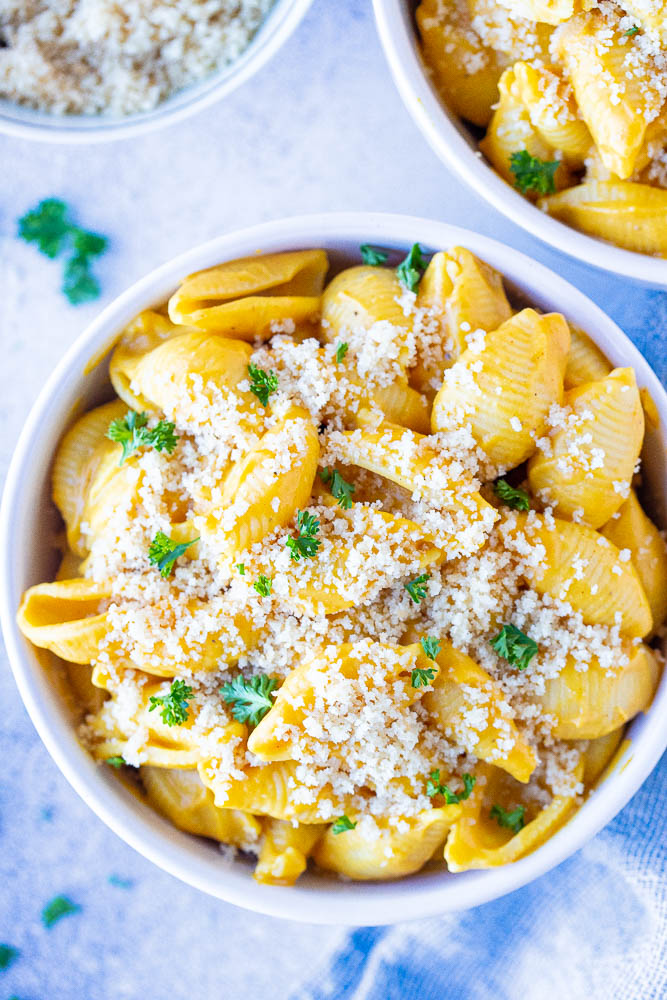 Mac and Cheese is one of those foods that pretty much all kids love. It contains pasta, a creamy sauce, isn't too strong in flavor or spicy. Making this Butternut Squash Mac and Cheese is a great way to sneak in some healthy veggies and make the traditional dish more nutritious. If you want to add a little real cheese you can also do that too! Just pour the butternut squash sauce into a pot and add a handful or two of shredded cheese and cook until it's melted.
Vegan Butternut Squash Mac and Cheese
Total Time:
1 hour
5 minutes
This Vegan Butternut Squash Mac and Cheese is so creamy and cozy!
Ingredients
16 ounces of your favorite pasta
1 medium sized butternut squash
2 cups plain, unsweetened almond milk (you can add an extra 1/2 if it's too thick)
1/3 cup nutritional yeast
1 teaspoon granulated garlic
1 teaspoon onion powder
1/2 teaspoon paprika
1/2 teaspoon mustard powder
1/4 teaspoon ground nutmeg
1/2 teaspoon dried Italian seasoning (optional)
3/4 teaspoon salt, or more to taste
1/4 teaspoon black pepper
2 tablespoons dairy free butter
1/2 cup breadcrumbs
Instructions
Peel butternut squash and dice it into bite size pieces. Place in a large pot and cover with water. Bring to a boil and cook butternut squash until fork tender, about 30 minutes.
Drain butternut squash and add to a blender along with the almond milk, nutrtional yeast and all the spices. Blend until creamy, about 1 minute.
Cook pasta according to package directions, drain and add back to the pot. Pour butternut squash sauce over the top and mix until combined. You can turn the heat on if you need to warm it up.
Add butter to a small saucepan and melt. Next, add bread crumbs and cook for a few minutes, until breadcrumbs are nice and toasty. Feel free to add some salt or spives if you wish!
Nutrition Information
Yield

6
Serving Size

1
Amount Per Serving
Calories

243
Total Fat

7g
Saturated Fat

3g
Trans Fat

0g
Unsaturated Fat

3g
Cholesterol

10mg
Sodium

369mg
Carbohydrates

38g
Fiber

5g
Sugar

2g
Protein

10g
Nutrition information will differ depending on the brand of products used.