These really are the BEST Strawberry Cupcakes! Both the cupcake and frosting are packed with sweet strawberry flavor and they're really easy to make!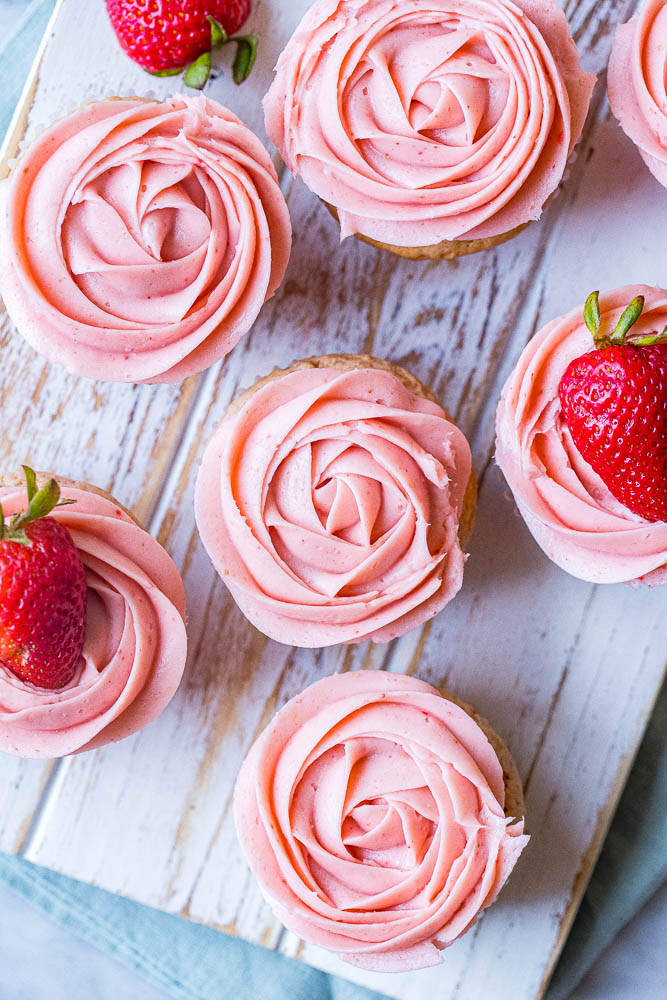 Who else has been baking up a storm these past weeks?! My three year old loves to help me in the kitchen and he's been really enjoying our baking projects. He also happens to love strawberries and cupcakes, so naturally he was very happy to help me come up with this recipe for the BEST Strawberry Cupcakes!
A few years ago I made some strawberry cupcakes for a friend's daughter's birthday. I followed someone else's recipe and I ended up not being very impressed. I promise that if you make these strawberry cupcakes everyone will love them!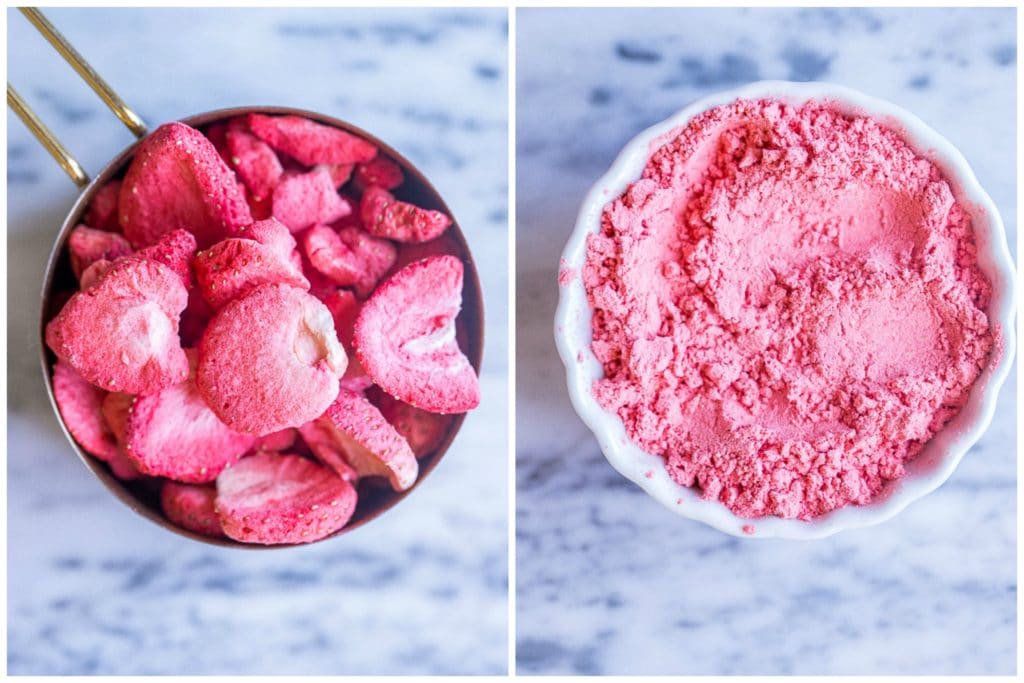 The Secret To The Best Strawberry Cupcakes
There are a few things that go into this recipe that make them really delicious!
Freeze-Dried Strawberries – The freeze-dried strawberries are definitely the most important part of this strawberry cupcake recipe! They pack so much strawberry flavor and help to make the cupcakes pink without adding any food coloring. I blend them into a powder and they easily mix into the batter. You do not want to leave them out!
Fresh Strawberries – The fresh strawberries help keep the cupcakes moist and add a nice fresh bite. You want to make sure your strawberries are perfectly ripe so they add sweetness and not sourness.
Strawberry Frosting – You can use any kind of frosting you like for these cupcakes, but I would very highly recommend using my strawberry cream cheese frosting. It is also made with the freeze-dried strawberries and is seriously the best frosting I've ever eaten!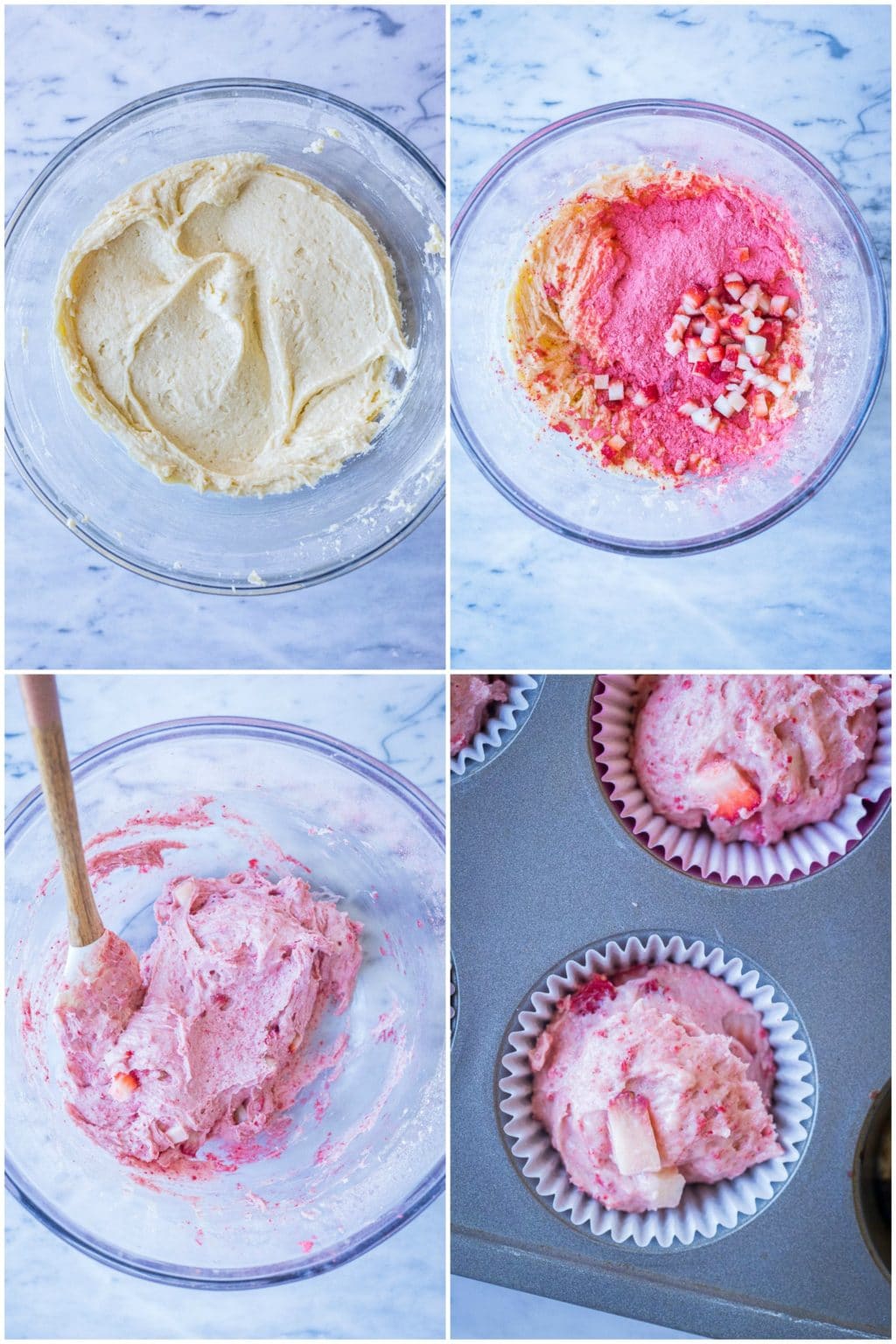 Minimal Ingredient Cupcake Recipe
Another thing that makes these the Best Strawberry Cupcakes is that they are really easy to make! There are no complicated ingredients (aside from freeze-dried strawberries) or techniques, they're just simple, easy and delicious. Here is what you will need:
Flour – I used all purpose flour. I'm guessing that a good gluten free all purpose flour would work as well but I haven't tried it myself.
Baking Powder – I like to use aluminum free baking powder because for some reason the regular baking powder gives everything a strange taste for me.
Salt
Butter or coconut oil – This recipe can be made with either softened butter or softened coconut oil. If using coconut oil you want to make sure it's really soft.
Sugar – I used white cane sugar but you can also use granulated sugar or even coconut sugar. If using coconut sugar the color of the cupcakes will be a little bit darker.
Eggs – I have not tested this recipe using a flax or chia egg so I can't say for sure if that would work or not. I used two large eggs.
Vanilla Extract
Milk – You can use regular milk or any plant based milk you like.
Strawberries – I use freeze-dried strawberries that I blend into a powder as well as one cup of fresh strawberries. I like the sweetness that the freeze-dried strawberries add and the freshness that the fresh strawberries add.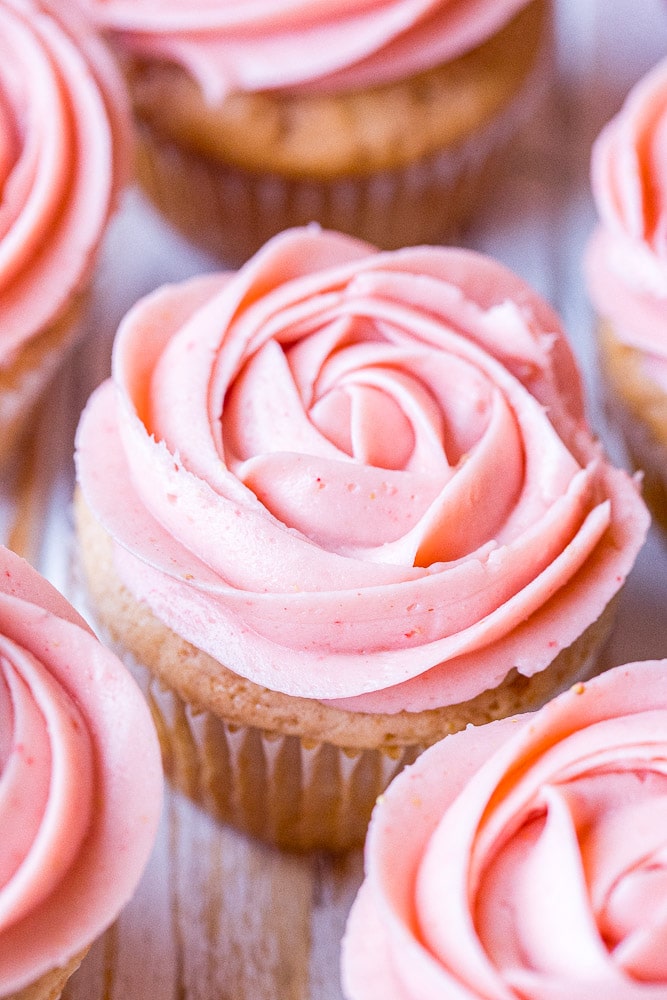 This Strawberry Cupcake recipe makes 12-14 cupcakes, which I know might seem a little strange! However, it's great if you are having a birthday party and want to make one little special cake for the birthday girl/boy and everyone else gets to enjoy cupcakes! This recipe can also easily be doubled to make more cupcakes or baked into a cake. This recipe would make one 8 inch round cake so I would double it if you want to make a layered cake.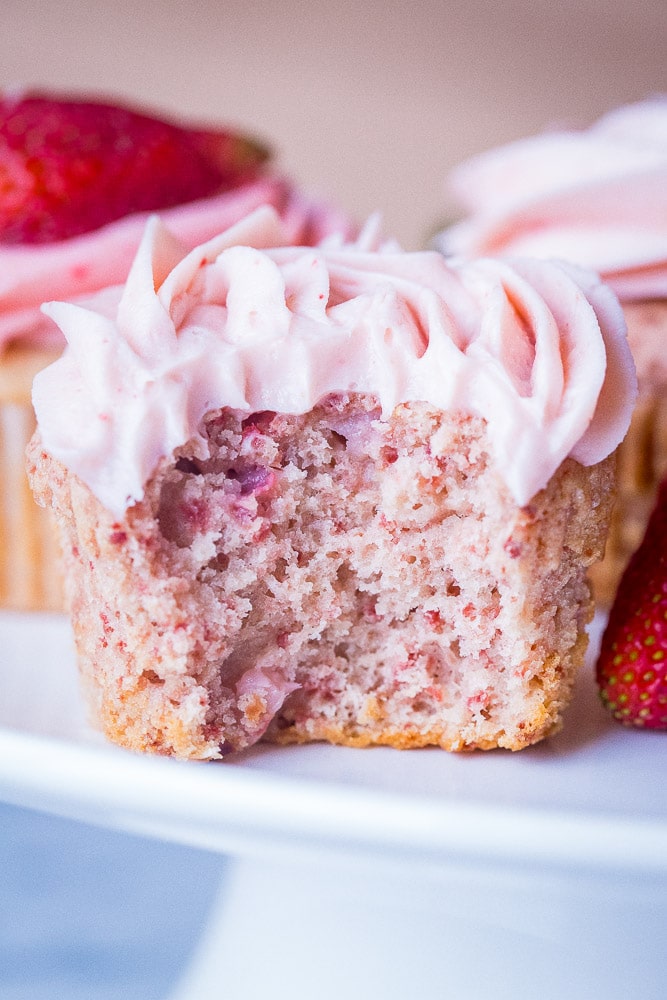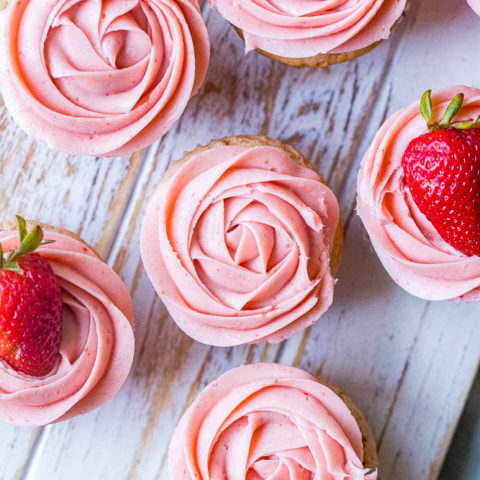 The BEST Strawberry Cupcakes
These Easy Strawberry Cupcakes are packed with so much delicious strawberry flavor!
Ingredients
1 1/2 cups all purpose flour
1 3/4 teaspoons baking powder
1/4 teaspoon salt
1/2 cup softened butter
3/4 cup cane sugar or granulated sugar
2 large eggs
2 teaspoons vanilla extract
1/2 cup milk
4 cups freeze-dried strawberries
1 cup small diced fresh strawberry
Strawberry Frosting:
1 package softened cream cheese
1/2 cup (1 stick) softened butter
1/2 cup powdered sugar
1/2 teaspoon vanilla extract
Instructions
Pre-heat oven to 350 degrees F. Line a muffin pan with paper liners. Add the freeze-dried strawberries to a blender or food processor and blend until a powder is formed. Remove three tablespoons for the frosting and set both aside.
In a medium sized bowl, mix together the flour, baking powder and salt.
In a large bowl cream together the butter and sugar. Next, add the eggs, one at a time, mixing after each addition. Add the vanilla and mix again.
Add the dry ingredients to the wet ingredient and mix. Add the milk and mix again until a smooth batter is formed. Fold in the strawberry powder (all but three tablespoons) and fresh strawberries.
Fill the muffin time about 3/4 of the way full. You don't want to overfill your cupcakes. Bake cupcakes until a fork inserted in the center comes out clean, 25-30 minutes.
Place cupcakes on a cooling wrack and cool completely before frosting.
Add all the frosting ingredents, including the 3 tablespoons strawberry powder, to a medium sized bowl and mix until combined and smooth. Frost cupcakes with desired amount of frosting and enjoy!
Nutrition Information
Yield

14
Serving Size

1
Amount Per Serving
Calories

228
Total Fat

10g
Saturated Fat

6g
Trans Fat

0g
Unsaturated Fat

3g
Cholesterol

52mg
Sodium

189mg
Carbohydrates

31g
Fiber

2g
Sugar

18g
Protein

3g
Nutrition information will differ depending on the brand of products used.