Painting the Snow is the perfect outdoor activity for kids to do during the cold, winter months. It's simple, fun, and will get your kids outside and creating art for hours!
The week after Christmas, my kids began feeling really stir crazy and we needed something to do. It's so much harder spending time outside when there's snow on the ground and the weather is cold. We had already been sledding three times, gone on a few hikes, and even built a snowman. We needed a new outdoor winter activity! I suggested going out to play in the snow (again), and my daughter complained that she just wanted to stay inside and do art instead. "Well," I asked her, "what if we take the art outside!?" And that's when we came up with painting the snow!
What you need for painting the snow
Snow. Snow is essential for this activity. It will work on any kind of snow though. Deep, thick snow is great, but any depth will do! Fresh powdery snow works and old crusty snow works too. So, if you live in a place where it snows regularly during the winter, you could do it any time. But if you don't get much or any snow where you live, just plan ahead and take supplies with you whenever you visit a place with snow.
Food coloring. Any kind of food coloring will work for this activity. We used Watkins Food Coloring, but artificial food dyes would work great as well.
Water. Water is needed to put the food coloring into to create the "paint." We just used regular tap water.
Container. You will need a container to use for "painting" or getting the colored water onto the snow. We started with little plastic squirt bottles, which were easy for the kids to use while wearing their bulky mittens. They had fun squirting and creating shapes and writing words in the snow. However, this option didn't show the color as well as the spray bottle did. Which is what we tried next. A spray bottle provided a more colorful end result, but it was harder the kids to use with their mittens and they needed more help from me.
Warm winter gear. Be sure to wear weather appropriate clothing for this activity. Water proof or water resistant mittens or gloves are essential because hands will undoubtedly get a little wet with this activity. And wet hands in the winter can be very uncomfortable or even dangerous if it's cold enough.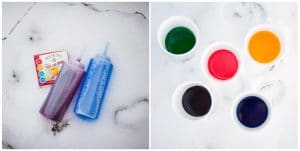 Steps for painting the snow
Fill a container with water. First, you will need to pick out a container you would like to use and fill it with water. Use a spray bottle or a squirt bottle.
Add color. Next, add a few drops of food coloring to the water and mix. We started with the three main colors in the box (red, yellow, and blue) but eventually, we began mixing colors to create orange, purple, and green too.
Get creative. Snow, water, and the food coloring were all abundant, so I told my kids to just go wild with it! My daughter loved writing her name and drawing hearts in the snow and my son was really into spraying various colors in the snow to create a tie-dye looking masterpiece.
What we love about painting the snow
It gets kids outside during the winter. My kids love being outside, but even for nature loving kids, it's hard to get motivated to spend lots of time outside during the winter. Winter sports and traditional activities are great, but we are always thinking of new and different things to try. Not only does this activity get your kids outside, but it also gets them engaged in artistic creativity which is essential for young minds.
It teaches kids colors. I love finding fun ways to incorporate learning and practical skills into my children's play. This activity is a perfect teaching method to explain primary colors to your kids as well as teaching them about the magic of mixing colors to get secondary colors as well.
It's cheap and easy. I am always a fan of inexpensive and simple activities. I find the more complicated the activity, the less likely we'll actually get around to doing it. This activity though, requires supplies you probably already have in your kitchen and it's so simple even very young children will be able to do it without much help.
It's temporary. Raise your hand if your kids have so many pieces of art that you're running out of space to keep them all?! I love all my kids's art, but sometimes it's a relief to watch them create art that doesn't last forever. The "paintings" will only last as long as the snow does and in my experience, it will not stain the ground under the snow either.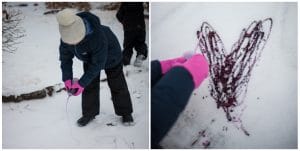 How to Paint the Snow
Painting the Snow is the perfect outdoor activity for kids to do during the cold, winter months. It's simple, fun, and will get your kids outside and creating art for hours!
Materials
Squirt bottle or spray bottle
Food coloring
Water
Instructions
1. Pick out a container (a spray bottle or squirt bottle) to use and fill it with water.

2. Add a few drops of food coloring to the water and mix.

3. Go outside and spray or squirt the snow with the colored water to creat a masterpiece!
Notes
Don't forget to wear your winter gear, especially water-proof or water-resistant gloves or mittens.