No eggs on hand, no problem! We have you covered with these Nature Easter Eggs! It's a fun and creative Easter craft that you kids will love!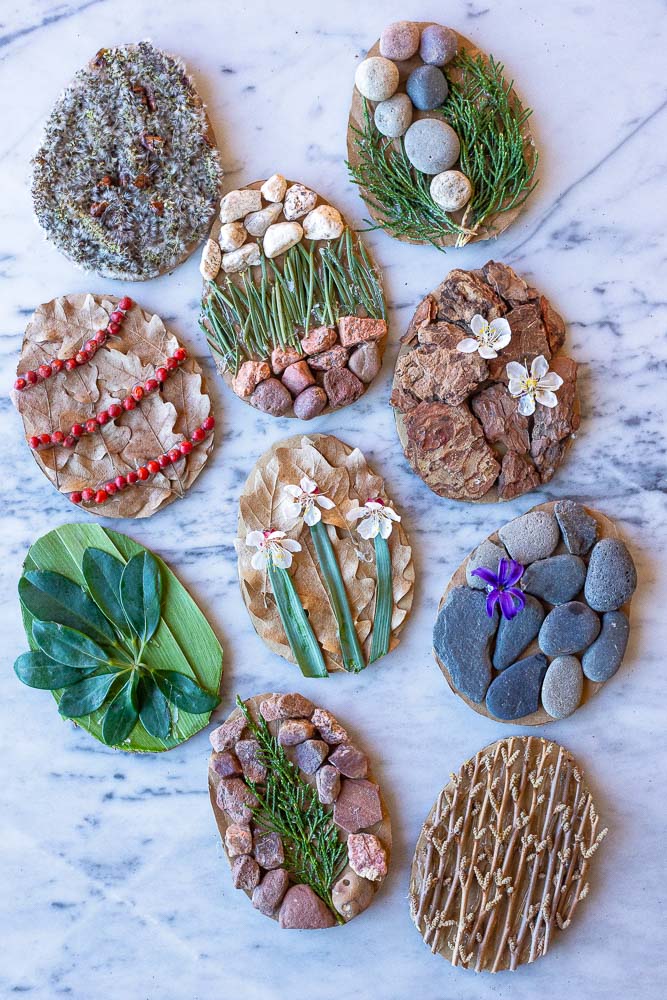 Easter is less than a week away! With everything going on in the world right now, Easter probably looks much different for you and your family this year. We've always loved doing the traditional egg dying (and Mary shared these beautiful naturally dyed eggs last week!), but if you don't have access to eggs right now, these Nature Easter Eggs are such a fun alternative!
If you're anything like me, you probably have some cardboard laying around because you've been busy online shopping these past few weeks 🙂 These Nature Easter Eggs are the perfect way to help re-use that cardboard!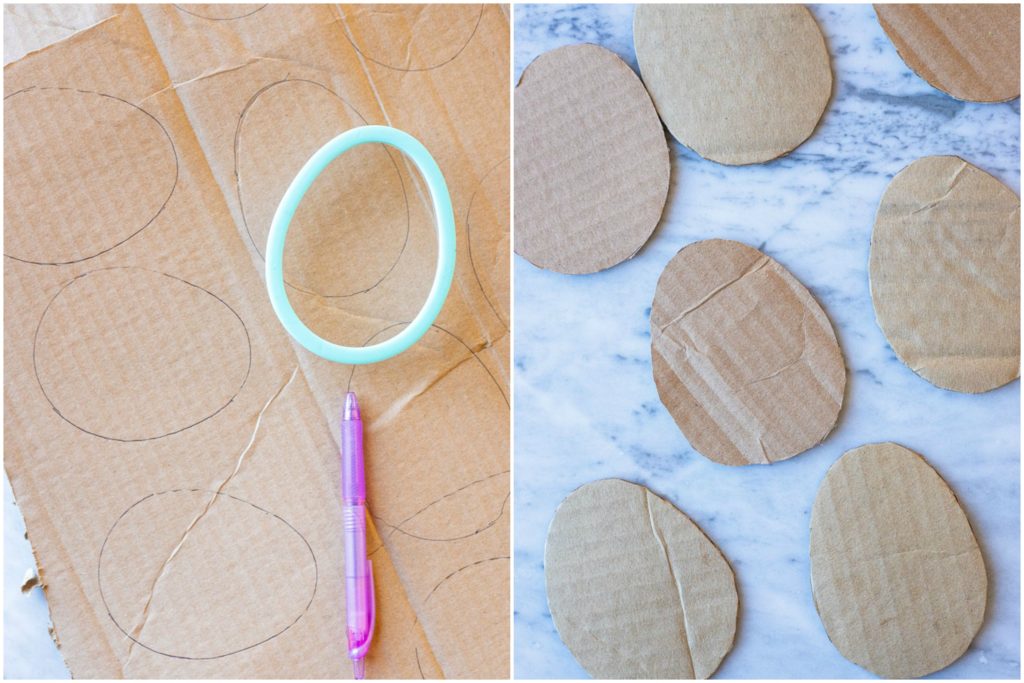 What You'll Need For These Nature Easter Eggs
Cardboard – Any kind of cardboard will work. I like to use cardboard because it's sturdy but if you don't have any cardboard, regular paper would work too. You would just need to make sure you didn't glue anything too heavy onto it.
Hot Glue – Hot glue works great for these Nature Eggs because it is perfect for securing heavier objects (rocks, sicks, etc..) to your cardboard. It also dried super quickly so you don't have to wait around to enjoy these eggs. If you don't have any hot glue, Elmers glue would work, it would just take a little longer to dry and might be a little harder to secure some of you items.
Nature Items – All you need to do for these is take a little walk around your yard, or neighborhood, and pick things that you think would look pretty on your eggs! A few suggestions of things we used: leaves, berries, seeds, branches, sticks, rocks, flowers, pine needs, bark. You can really get creative here!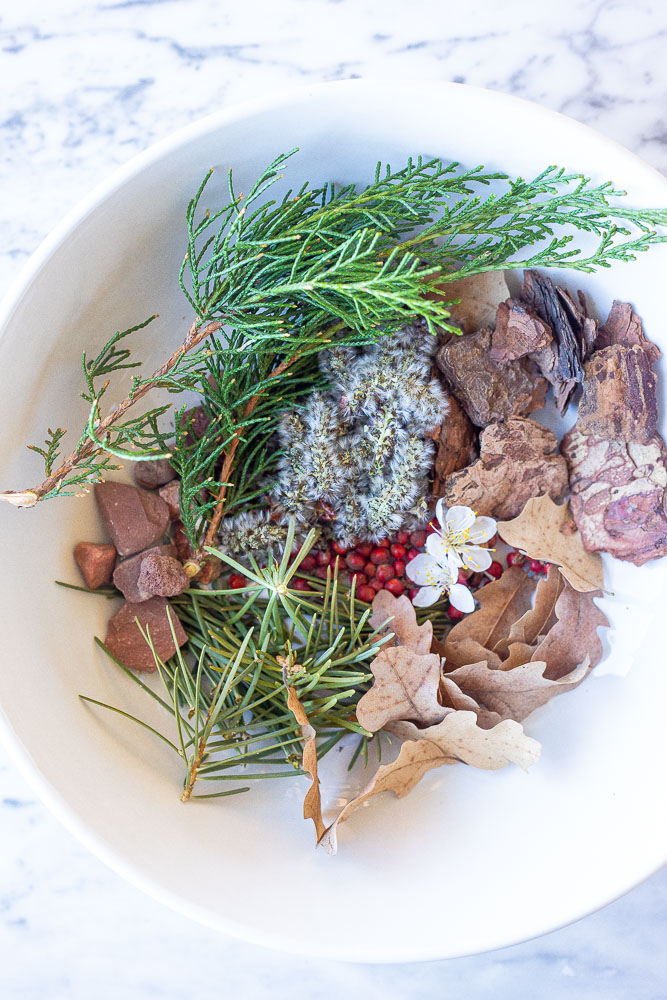 One great thing about these Nature Easter Eggs is that the decorating possibilities are endless. Each egg will be so different and your child can really get creative with their vision.
How To make Nature Easter Eggs
These are so easy and fun to make! There's only a few steps you'll need to follow but really, you can just get your creative juices flowing and have fun with this project!
Cut out your egg shapes from the cardboard. I just happened to have an egg cookie cutter that I traced to make my egg shapes but you can also just draw them freehand if you don't have something to trace. You then carefully cut them out. Sharp scissors are nice when cutting cardboard, if you have them. My son had fun watching me cut the eggs out, but I didn't let him help with the scissors, just to be safe.
Go out and collect your nature items! We just went in our backyard because we have lots of plants and rock to choose from, but you could also make it into a fun activity where you go for a little walk around the neighborhood and collect your items.
Plug your hot glue gun in and start decorating! I had patterns in mind before I started each egg, but for little kids, it's fun to just let them help you glue things on. Hot glue is really hot, so I just had my son point to where he wanted things to go and then I would operate the hot glue gun.
What We love About This nature based, creative Activity
It is such a great alternative to egg dying if you don't have access to eggs right now, or need to save them for your baking/cooking projects.
It allows kids to really get creative! There's no right or wrong way to decorate these Nature Easter Eggs so kids can just let loose and have fun coming up with their designs.
It gets kids outside. Your kids will have so much fun hunting for unique items in nature to decorate their eggs with.
Helps re-use cardboard. Instead of just recycling your old cardboard, you can turn it into a beautiful and thoughtful craft!
We hope you all have a fun and festive Easter, despite everything that is going on in the world right now. If you make these Nature Easter Eggs with your kids this year, make sure to share your photos with us on Instagram!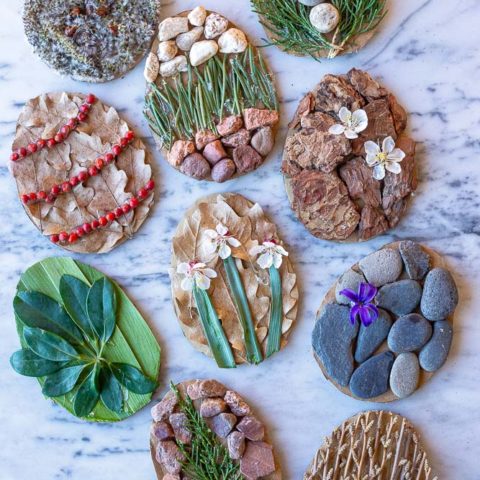 Nature Easter Eggs
Yield:
As many as you like!
These Nature Easter Eggs are a fun and creative way to celebrate Easter this year!
Materials
Cardboard
Hot glue gun
Nature items
Instructions
Use a pen or pencil to draw egg shapes on your cardboard. You can trace them or do freehand. You can make the eggs as small or large as you like.
Carefully cut out your eggs shapes from the cardboard.
Go outside and gather nature items to decorate your eggs with. Use the hot glue gun to secure your items to the cardboard eggs.